Visible to Intel only — GUID: mqm1515514595061
Ixiasoft
2.2.3.3. RX PMA Options
Figure 25.

RX PMA Options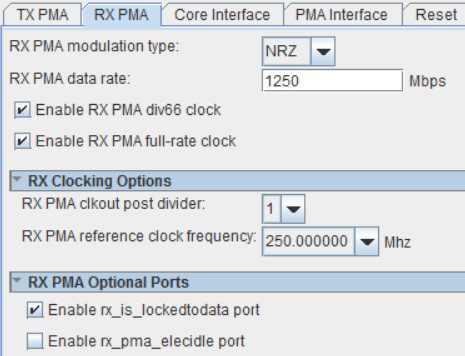 Table 17.

RX PMA Options
Parameter
Value
Description

RX PMA modulation type

NRZ, PAM4

Select the RX PMA modulation type based on your usage.

RX PMA data rate

For PAM4, 2000 - 57800 Mbps

For NRZ, 1000 - 30000 Mbps

Specifies the transceiver RX data rate in units of Mbps.

Note:

You must use the PAM4 high data rate mode for data rates > 30 Gbps.

Enable RX PMA div66 clock

On/Off

Enables or disables the RX PMA div 66 clock option.

Enable RX PMA full-rate clock

On/Off

Enables or disables the full-rate clock of the RX PMA.

RX PMA clockout post divider

1

,

2

,

4

,

8

Specifies the post divider counter value for the rx_pma_clkout port.

RX PMA reference clock frequency

100 - 700

Selects the reference clock frequency options for the RX in MHz.
Did you find the information on this page useful?