A newer version of this document is available. Customers should click here to go to the newest version.
Visible to Intel only — GUID: osa1651157203680
Ixiasoft
17.2. Deinterlacer Parameters
The IP offers run- and compile-time parameters.
Parameter
Values
Description
Video Data Format
Bits per color sample
8 to 16
Select the number of bits per color sample.
Number of color planes
1 to 4
Select the number of color planes per pixel.
Number of pixels in parallel
1 to 8
Select the number of pixels in parallel.
Control
Lite mode
On or off
Turn on to operate the bob deinterlacer in lite mode.
Memory-mapped control interface
On or off

Turn on to read frame statistics and turn the bob deinterlacer on and off using an Avalon memory-mapped interface.

The memory-mapped control interface is mandatory in lite mode.

Separate clock for control interface
On or off
Turn on for a separate clock for the control interface.
Deinterlacer Behavior
Bob deinterlacing mode

DEINTERLACE_F0_ONLY,

DEINTERLACE_F1_ONLY,

DEINTERLACE_F0_AND_F1

Select to drop of F0 or F1 input fields.
Maximum Frame Size
Maximum field width
32 to 16384
Select the maximum field width to determine the size of the line buffer. Set this parameter to the line length of the widest fields you want to deinterlace. Progressive frames of any size pass through unchanged.
General
Debug features
On or off
Turn on to enable debug features (not applicable for lite mode).
Figure 40.

Deinterlacer GUI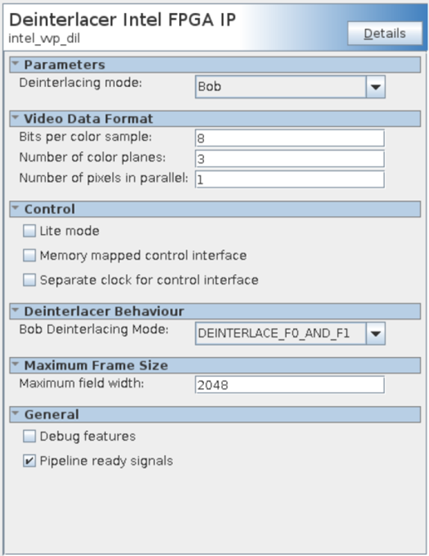 Figure 41.

Bob Deinterlacing Mode
The figure shows the bob deinterlacing modes where the IP drops or deinterlaces interlaced fields. The IP passes all progressive frames through.