Visible to Intel only — GUID: ehw1467068602103
Ixiasoft
4.3. Version Selector
The Board Test System (BTS) will prompt you with a Version Selector window once opened. You can also open the Version Selector window through the Configure tab by clicking Select Silicon Version. Select the silicon version of the Arria 10 device that is installed on your board.
Figure 6.

Configure Tab Version Selector Option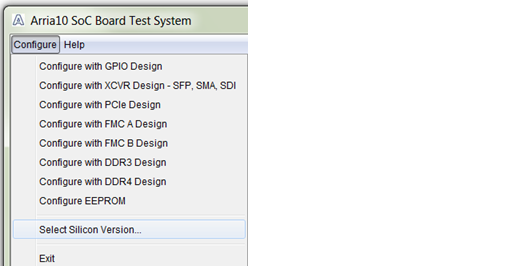 Figure 7.

Version Selector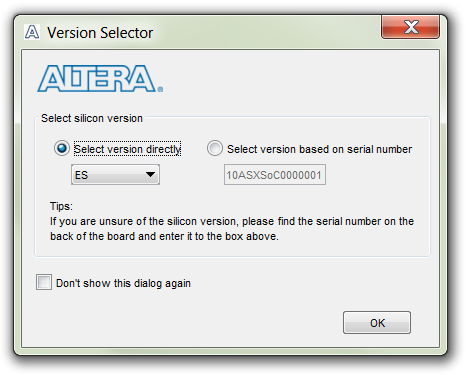 If you do not know, or unsure of the version, enter the board serial number in the box on the right and the software will pick the right version based on the table below. The numbers here are the last 3-4 digits of the serial number which can be found on the bottom of your board.
Figure 8.

Board Serial Number Sticker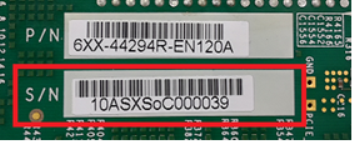 Table 11.

| Serial Number | Arria 10 SoC Silicon Revision |
| --- | --- |
| 10ASXSoC00&lbrack;<0500&rbrack; | ES |
| 10ASXSoC00&lbrack;0500-1999&rbrack; | ES2 |
| 10ASXSoC00&lbrack;>1999&rbrack; | PRD |
Did you find the information on this page useful?