Arria 10 SoC Development Kit User Guide
Visible to Intel only — GUID: iga1439245805175
Ixiasoft
4.4.1. Using the Configure Menu
Use the Configure menu to select the design you want to use. Each design example tests different board features. Choose a design from this menu and the corresponding tabs become active for testing.
Figure 9.

The Configure Menu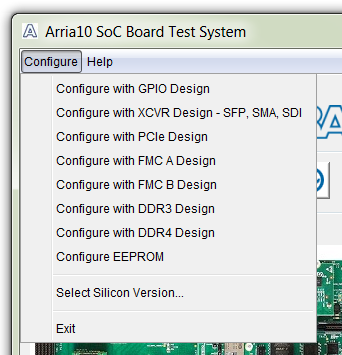 To configure the FPGA with a test system design, perform the following steps:
On the

Configure

menu, click the configure command that corresponds to the functionality you wish to test.
In the dialog box that appears, click

Configure

to download the corresponding design to the FPGA.

Figure 10.

Programmer Dialog Window
Did you find the information on this page useful?