Visible to Intel only — GUID: xzq1487271938777
Ixiasoft
6.3.12. Power Monitor
The Power Monitor measures and reports current power information and communicates with the MAX® V device on the board through the JTAG bus. A power monitor cicruit attached to the device allows you to measure the power that the FPGA is consuming.
To start the application, click the Power Monitor icon in the BTS. You can also run the Power Monitor as a stand-alone application. The PowerMonitor.exe resides in the <package dir>&bsol;examples&bsol;board_test_system directory.
Note:
You cannot run the stand-alone power application and BTS at the same time. Also, you cannot run power and clock interface at the same time.
Note:
Intel
recommends to remove R494 resistor from the board if VCC total current is less than 36 A. Reserve R494 if VCC total current is larger than 36 A.
Figure 36.

The Power Monitor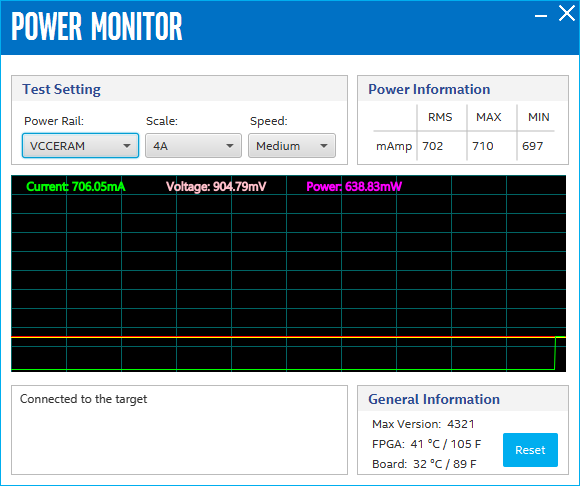 Did you find the information on this page useful?