Visible to Intel only — GUID: gjo1488502843004
Ixiasoft
A.1.1. Safety Warnings
Power Supply Hazardous Voltage
AC mains voltages are present within the power supply assembly. No user serviceable parts are present inside the power supply.
Power Connect and Disconnect
The AC power supply cord is the primary disconnect device from mains (AC power) and used to remove all DC power from the board/system. The socket outlet must be installed near the equipment and must be readily accessible.

System Grounding (Earthing)
To avoid shock, you must ensure that the power cord is connected to a properly wired and grounded receptacle. Ensure that any equipment to which this product will be attached is also connected to properly wired and grounded receptacles.
Power Cord Requirements
The connector that plugs into the wall outlet must be a grounding-type male plug designed for use in your region. It must have marks showing certification by an agency in your region. The connector that plugs into the AC receptacle on the power supply must be an IEC 320, sheet C13, female connector. If the power cord supplied with the system does not meet requirements for use in your region, discard the cord and do not use it with adapters.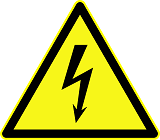 Lightning/Electrical Storm
Do not connect/disconnect any cables or perform installation/maintenance of this product during an electrical storm.
Risk of Fire
To reduce the risk of fire, keep all flammable materials a safe distance away from the boards and power supply. You must configure the development kit on a flame retardant surface.
Did you find the information on this page useful?