Visible to Intel only — GUID: joc1463362604091
Ixiasoft
QSFP+ Module Assembly and Pinout
The Quad Small Form-factor Pluggable (QSFP) specification is based on the SFF-8665, SFF-8679 and OIF CEI v3.1 standards.
Figure 75.

Simplified QSFP+ Channel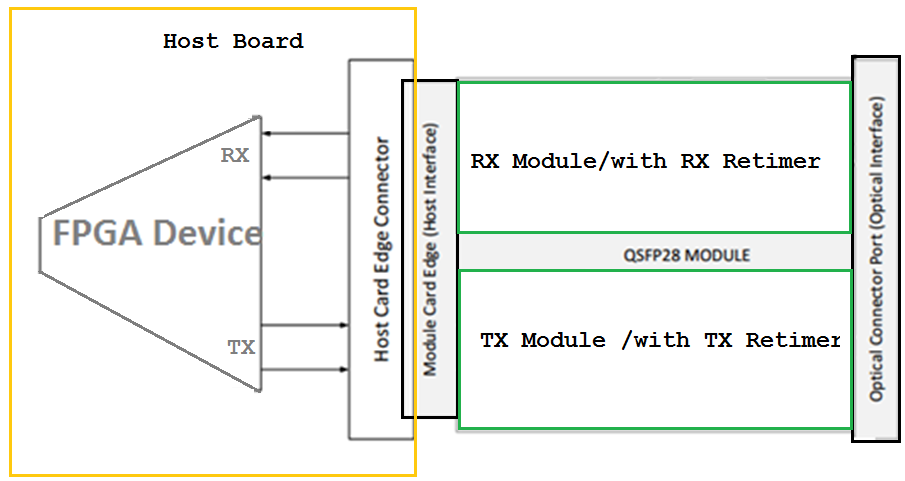 The roadmap for QSFP+ standards operating up to 28 Gbps includes:
10 Gbps QSFP10 SFF-8635
14 Gbps QSFP14 SFF-8685
28 Gbps QSFP28 SFF-8665
Figure 76.

QSFP+ Module and Pin Map Layout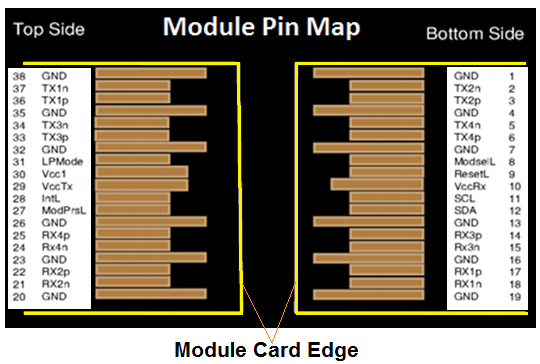 The RX(n)(p/n) and TX(n)(p/n) are module receiver data outputs and transmitter data inputs. They are all AC-coupled 100 Ω differential lines that should be terminated with 100 Ω differentially at the Host ASIC (SerDes). The AC coupling is inside the module and not required on the host board. For operation at 28 Gbps the relevant standards (OIF-CEI-03.1 standard document) define the signal requirements on the high-speed differential lines. For operation at lower rates, refer to the appropriate standards.
Did you find the information on this page useful?