Visible to Intel only — GUID: mwh1409959574876
Ixiasoft
1.1.1. Inserting HDL Code from a Provided Template
Click

File

>

New

.
In the

New

dialog box, select the HDL language for the design files:

SystemVerilog HDL File

,

VHDL File

, or

Verilog HDL File

; and click

OK

.

A text editor tab with a blank file opens.

Right-click the blank file and click

Insert Template

.
In the

Insert Template

dialog box, expand the section corresponding to the appropriate HDL, then expand the

Full Designs

section.

Select a template.

The template now appears in the

Preview

pane.

To paste the HDL design into the blank Verilog or VHDL file you created, click

Insert

.
Click

Close

to close the

Insert Template

dialog box.
Figure 1.

Inserting a RAM Template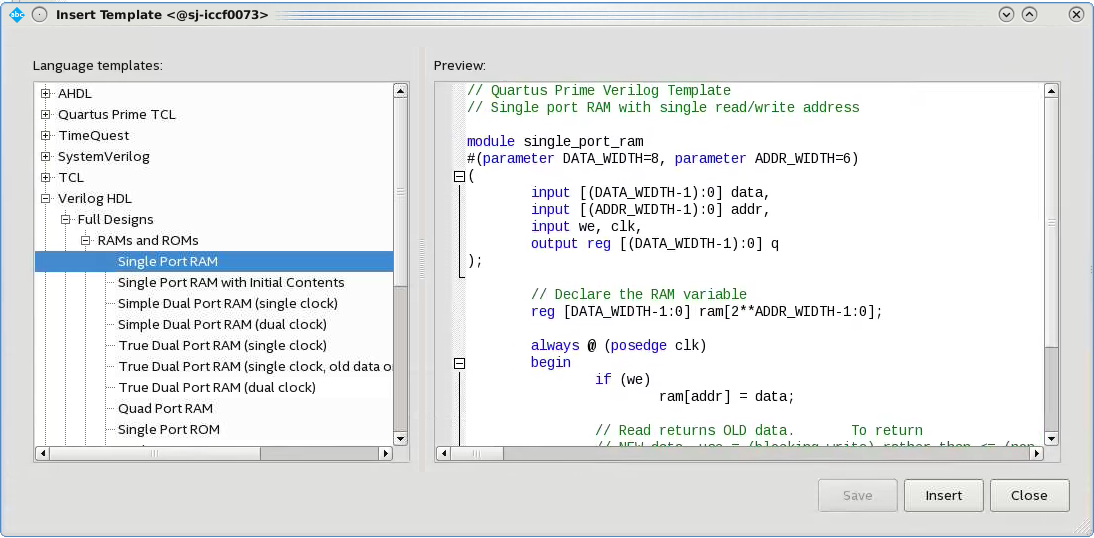 Note:
Use the
Intel® Quartus® Prime
Text Editor to modify the HDL design or save the template as an HDL file to edit in your preferred text editor.
Did you find the information on this page useful?