Visible to Intel only — GUID: kkp1670289317987
Ixiasoft
6.6.4.5.3. Rx Path
This tab allows you to monitor the receiver settings for the channel selected.
Table 115.

Rx Path Parameters
Group
Parameters
Values
Descriptions
Rx Status
Rx Polarity

No polarity inversion

Polarity inversion

Indicates RX polarity inversion for the selected lane.
Rx Electrical Idle

True

False

Indicates if RX is in electrical idle.
Receiver Detected

True

False

Indicates if far end RX is detected.
Rx CDR
CDR Lock

True

False

Indicates the CDR lock state.
CDR Mode

Locked to Reference (LTR)

Locked to Data (LTD)

Indicates the CDR mode.
Figure 69.

Rx Path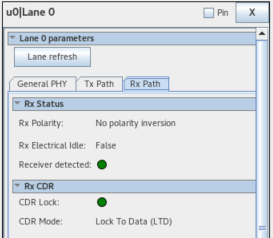 Did you find the information on this page useful?