1.6.2.1. Check Constraint Diagnostics
The Timing Analyzer can generate a set of diagnostic reports that help check timing constraints.
Click Tasks > Reports > Constraint Diagnostics to generate these reports.
Figure 7.

Timing Analyzer Constraint Diagnostics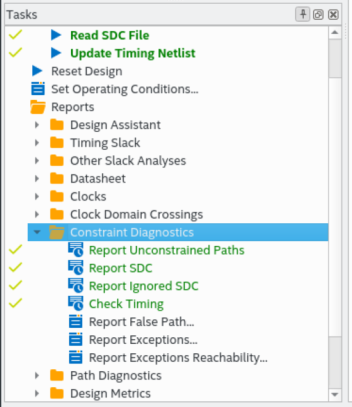 You can use the following commands to generate the reports to verify your constraints:
Report Unconstrained Paths

—reports illegal or unconstrained clocks, input or output ports, and paths.

Report SDC

—reports all SDC constraints that apply.

Report Ignored SDC

—reports all SDC assignments that do not apply.

Check Timing

—reports issues on critical fields like latches, loops, no clock drivers, and others.

Report False Path

—reports all of the false paths that apply in the design.

Report Exceptions

—reports a list all exceptions that apply in the design.

Report Exceptions Reachability

—reports the percentage of reachability on the targets you specified in your exceptions.
Did you find the information on this page useful?