Visible to Intel only — GUID: vdc1566839563478
Ixiasoft
8.3. Viewing ECO Compilation Reports
The Compiler generates a report showing the details of each ECO compilation that you run successfully. You can view the report contents in the

ECO Changes

report under

Fitter

in the Compilation Report.
Figure 121.

Example of ECO Changes Report
Alternatively, you can view this data in the generated fit.eco file. The Compiler organizes the report output according to the category of ECO change, such as Placement Changes. The table specifies the "Changes in Previous ECO Runs" and "Changes in Current ECO Run".
Figure 122.

ECO Report Example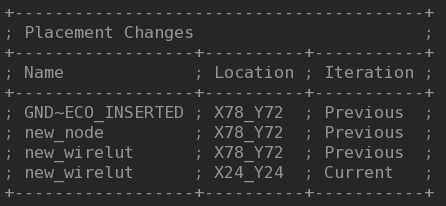 Locate nodes from the Fitter's ECO reports to confirm ECO changes.
Figure 123.

Locate Node from Fitter ECO Reports
Did you find the information on this page useful?