A newer version of this document is available. Customers should click here to go to the newest version.
Visible to Intel only — GUID: mwh1409958331599
Ixiasoft
3.9.1.1. Use Relative Paths
Express file paths using relative path notation (

../

).
For example, in the directory structure shown you can specify top.v as ../source/top.v and foo1.v as ../source/foo_folder/foo1.v.
Figure 38.

Intel® Quartus® Prime

Project Directory Separate from Design Files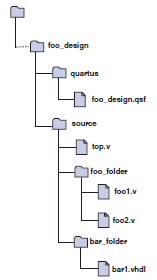 Did you find the information on this page useful?