AN 905: JESD204B Intel® FPGA IP and ADI AD9213 Interoperability Report for Intel Stratix® 10 Devices
1.2. Hardware Setup
An Intel® Stratix® 10 GX Signal Integrity Development Kit is used with the ADI AD9213 daughter card module installed to the development board's FMC+ connector.
The AD9213 EVM derives power from the FMC+ pins.
The FPGA clock is supplied by a Silicon Labs Si5341 clock generator on the development kit.
The Si5341 clock generator provides a reference clock to the ADF4355 clock source. Sampling clock to the ADC AD9213 EVM is given by external clock source ADF 4355.
For subclass 1, the FPGA generates SYSREF for the JESD204B

Intel® FPGA IP

as well as the AD9213 device.
SYSREF is provided to ADC through SMA connector.
Figure 1.

Hardware Setup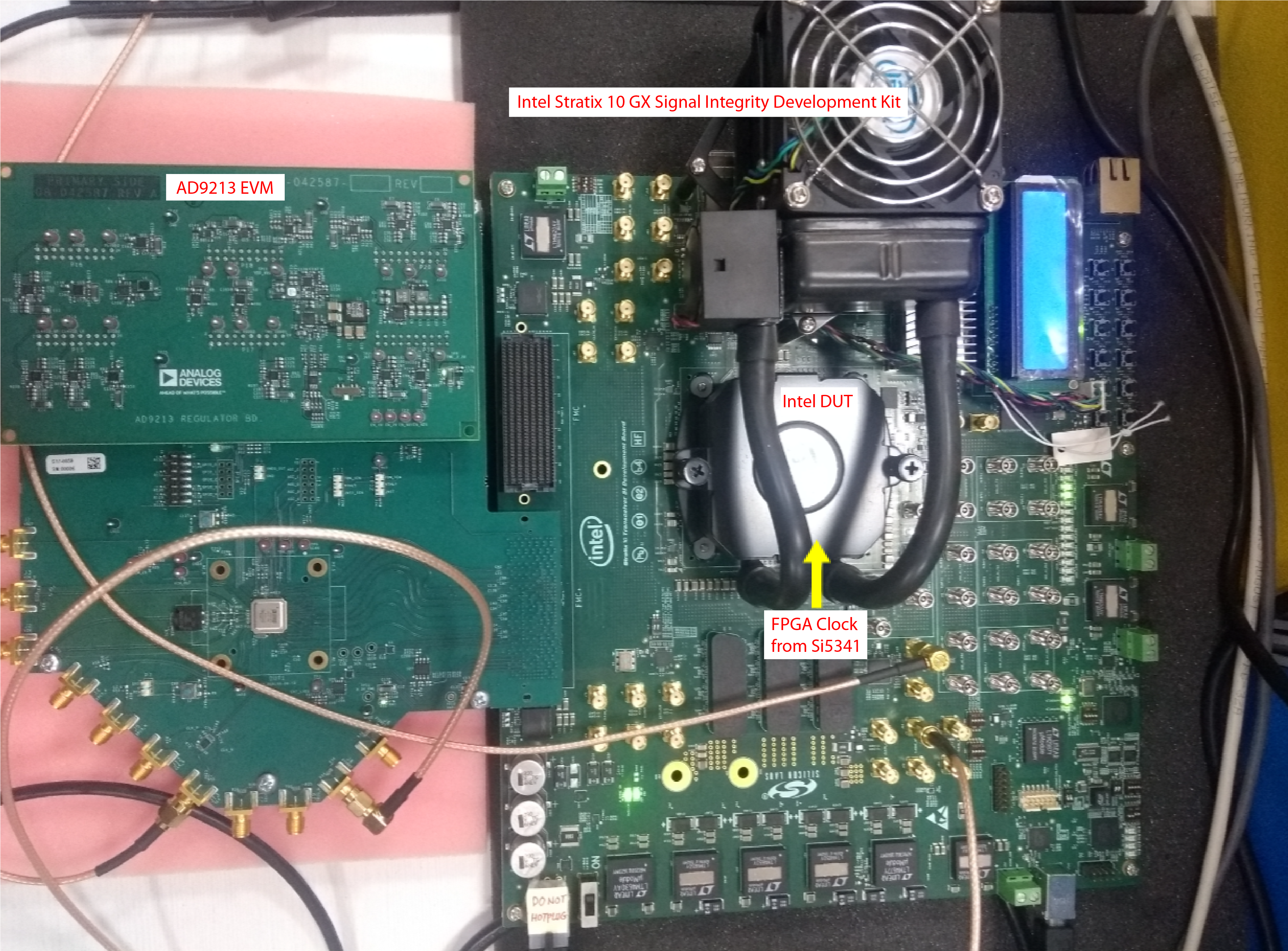 Figure 2.

System Diagram
This system-level diagram shows how the different modules connect.
In this setup, where LMF = 812, the data rate of the transceiver lanes is 16 Gbps. An external clock source card provides 400 MHz clock to the FPGA and 6400 MHz sampling clock to AD9213 device. A periodic SYSREF is generated by the FPGA and provided to the ADC through the SMA connector. The JESD204B Intel® FPGA IP core is instantiated in duplex mode but only the receiver path is used.
Did you find the information on this page useful?