5.11. Intel® FPGA PTC - HPS Page
The

HPS

data entry page of the

Intel® FPGA Power and Thermal Calculator

(PTC) applies to devices with HPS.
To enable parameter entry into the HPS page, first select a device that supports HPS in the Main page or in Device Selection, then turn ON the HPS System Switch in the HPS page. For Intel® Stratix® 10 devices, select your peripheral modules in the I/O-IP page.
Figure 35.

HPS Page of the

Intel®

FPGA PTC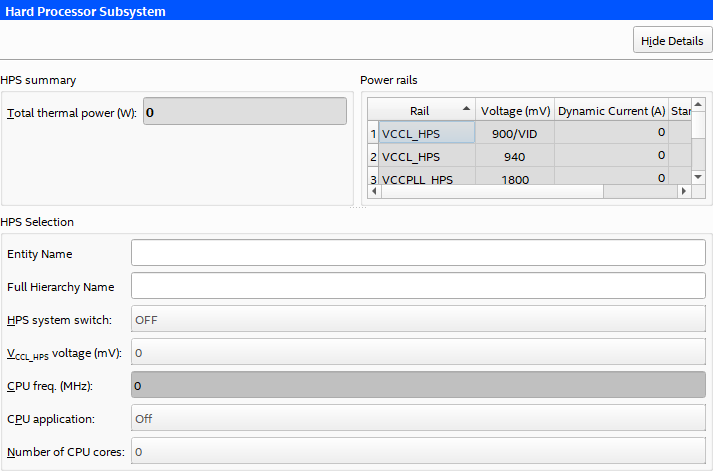 Table 24.

HPS Input Parameter Information

| Input Parameter | Description |
| --- | --- |
| Entity Name | Specifies a name for the entity. This is an optional value. |
| Full Hierarchy Name | Specify the hierarchical path relevant to this entry. This is an optional entry. When entering levels of hierarchy, the pipe character (|) denotes a level of hierarchy. |
| HPS System Switch | Turns the HPS system on or off. This selection affects the static power. |
| VCCL_HPS Voltage (mV) | Specifies the core HPS voltage (in mV). |
Table 25.

CPU Parameters on the HPS Page

| Parameters | Description |
| --- | --- |
| CPU Freq. (MHz) | Specifies the operating frequency of all CPUs (in MHz). |
| CPU Application | Select a benchmark application representative of the application running on the CPUs. |
| Number of CPU Cores | Specifies the number of cores in the CPU running the selected application. |
Did you find the information on this page useful?