The cool of autumn is finally permeating the ozone layer in Pennsylvania and the Jersey shore ocean water temperature is dipping below 80 degrees Fahrenheit. This brings to mind the important year-ending events like U.S. Thanksgiving, the December holiday season, and more importantly IEEE Vis 2021, Intel InnovatiON and SC'21. These events offer some of the last bucket list opportunities for my Intel team and our world-class partners.
This was quite monumental year for us who are focused on high-fidelity 'pixels' with non-stop, exciting (and daunting) activities like mapping the Intel® oneAPI Rendering Toolkit to new products, such as the in-development Intel Arc Xe and Xe HPC GPUs, and the recently launched Intel 12th gen Core™ processors with a hybrid core architecture, plus a lot more I can't tell you about just yet!
Journey to Open
I'd like to provide a quick look back at the year (so far) from my vantage point, share announcements from my IEEE Vis keynote, and hint at what's coming ahead. First, aligned with the Intel InnovatiON conference, given my team's many years of open source and open standards focus, I was gratified to see Intel CEO Pat Gelsinger's "open letter" to developers signaling that Intel is 'tripling down' on openness with the open.intel initiative.
At Intel, we continuously up our goals to push the boundaries of what's possible by embracing and utilizing open, scalable software and platform infrastructure from laptops to supercomputing machine clusters. We get constant feedback that an open, heterogenous, single source code approach is best. This allows us to deliver all kinds of computing, and particularly high-fidelity, physically based interactive 3D ray traced methods to address analysis needs for exploding simulation and model sizes and model complexity. This is at the heart of what oneAPI delivers.
This year I continue to be amazed that there appears no limit to the demands for high-fidelity ray tracing and rendering. Movie production with animation/VFX, breakthrough scientific uses, photoreal architecture and product design, and the rapidly increasing use of ray tracing in game development. All these industries continue to seek new levels of brilliant visuals and photorealism. Healthcare is using visualization and AI to detect and diagnose viruses, diseases and cell anomalies. Scientific visualization with big data, exascale simulations for the climate change, cosmology, and so much more.
Intel® oneAPI Rendering Toolkit advancements
In 2021, the Intel® oneAPI Rendering Toolkit (Render Kit) has rapidly evolved in both capability with the production-ready version 1.x of Intel® Open Volume Kernel Library delivering volume rendering APIs improving volumetric processing performance while delivering volume traversal and sampling for a wide variety of volumetric data formats. We developed new features in our longer-time products like Intel® Embree and high-fidelity AI denoiser, Intel® Open Image Denoise, which are now utilized in most of the leading rendering applications addressing film, 3D product, architectural designs, HPC and gaming/AR/VR. This includes Autodesk Arnold 7.0, Epic's Unreal Engine, Chaos Group's two leading renderers V-Ray for product, automotive and visual effects and Corona for architectural design. SideFX Houdini 19's Karma Path Tracing renderer uses Embree and Open Image Denoise. Dassault Systèmes has its DeltaGen renderer used in many of its products as well.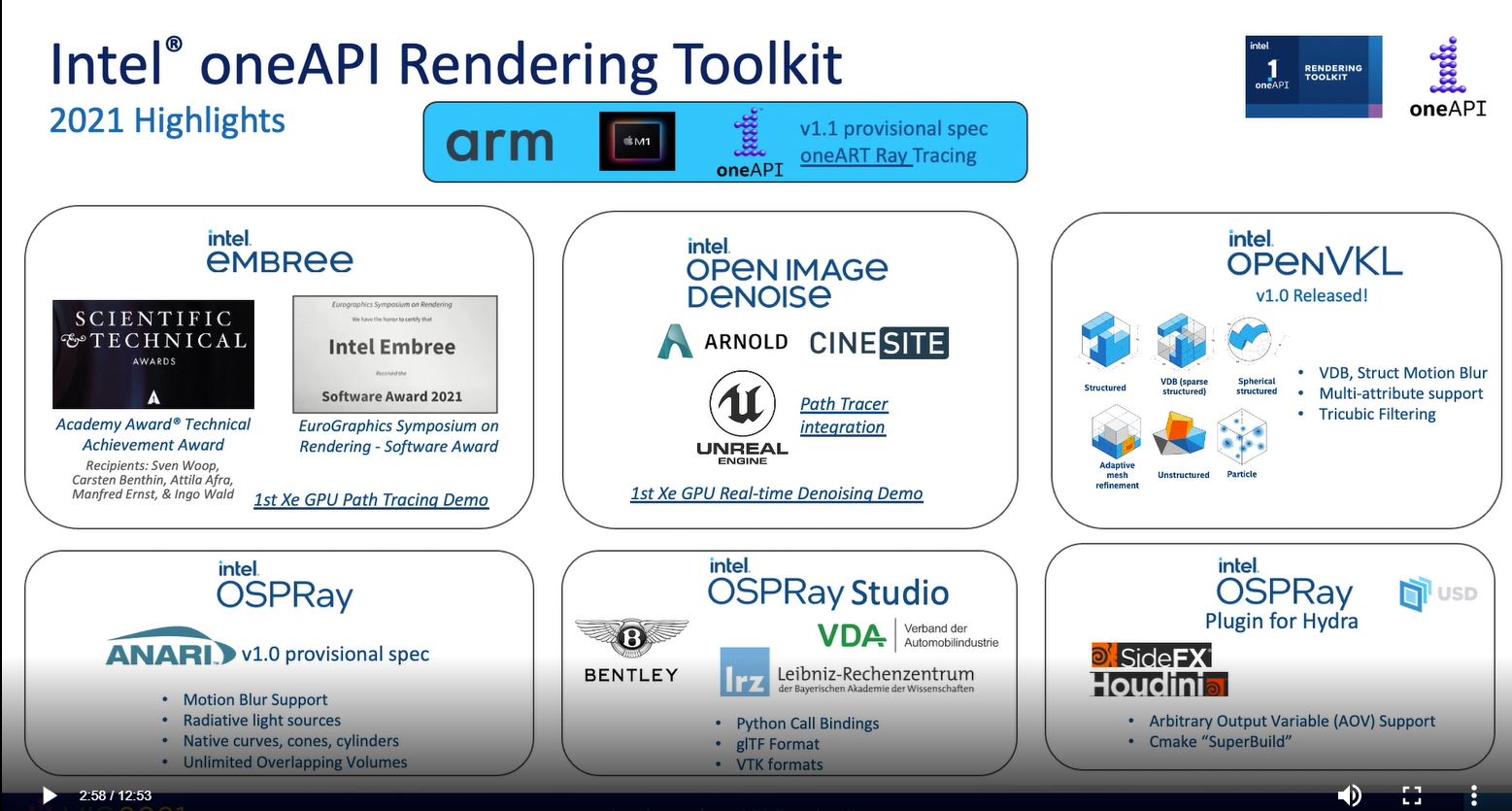 Even the game engines and the Open 3D Engine that Amazon is contributing to the Linux Foundation embraces our Intel® OSPRay renderer. I was thrilled to announce the next product in our ever-growing portfolio of customer-driven libraries, Intel® Open Path Guiding Library (Intel® OpenPGL) for Path Tracing importance sampling methods, available in a beta release by the end of this year.
Beyond the major renderers' integration of Render Kit libraries, we're seeing Ray Tracing and high-fidelity rendering expansion via adoption across growing open industry standards and consortiums such as the just announced Khronos ANARI provisional spec, Blender, Mesa 3D and Vulkan to name a few. It's exciting to see the high interest in open source as a critical business driver.
Intel® Advanced Ray Tracing (Intel® ART)
With this plethora of activity and the growing use of Ray Tracing across a wide swath of industries and usages, I'm pleased to announce a "go to" Intel brand for all things related to Ray Tracing: Intel® Advanced Ray Tracing (Intel® ART). Look for this brand on Intel products, solutions and services for confidence that you are getting the most comprehensive, feature-rich and high-fidelity ray tracing capabilities from the team that developed the Academy Award winning Intel® Embree geometric ray tracing library, and our other high performance, high fidelity, ray tracing computation platforms and services.
Visualization-focused Intel® oneAPI Centers of Excellence
Lastly, there are several exciting developments within our Intel Graphics and Visualization Institutes of Xellence (Intel GVIs). First, we welcome UC Davis and principal investigator (PI) Dr. Kwan-Liu Ma as the next Institute member. Dr. Ma's reputation as a researcher and educator for advancing visualization through papers, open-source codes, and as a community contributor is well known and complements our existing institutes. Further, all our Intel GVI's are expanding as Intel oneAPI Centers of Excellence that further research, technologies and services, and developer training for visualization on heterogeneous platforms. View the organizations, their announcements and planned efforts in this fact sheet.
With all this ongoing momentum on available compute infrastructure, I'm excited to see our platform expanding to deliver the highest fidelity rendering that will also leverage the performance and Ray Tracing hardware included in our Xe line of GPUs in the coming months.
At Intel, we create world-changing technology that enriches the lives of every person on earth. It is my team's goal and promise that for ray tracing and high-fidelity visualization, we will deliver our part of the mission. Intel drives innovation; leadership in hardware, software, and other technologies; and collaborates with industry leaders to unleash open, high-performance cross-architecture solutions that push the boundaries of what's possible.
Stay tuned for even more exciting capabilities in 2022.
Jim
Related Content
Fidelity-first Ray Tracing in the Heterogeneous Compute Era: Image Quality Comparison between Intel® Open Image Denoise vs Nvidia Optix
Read
Different Ways Visualisation is Used to Improve Everything from Cosmology to Cardiovascular Surgery, Scientific Computing World
Read
Intel Embree Wins Academy Scientific & Technical Award
Read