Intel® Enterprise Edition for Lustre* Software
Intel® Enterprise Edition for Lustre* Software
Making Parallel Storage Simpler and More Productive
Not long ago storage for high performance computing (HPC) meant complexity and challenging management. HPC was the domain of government-sponsored research or data-intensive applications, like weather prediction or large-scale manufacturing in the aerospace and automotive sectors.
Today, HPC has expanded beyond just national laboratories and research institutes to become a key technology for enterprises of all sizes as they seek to develop improved products or entirely new industries. Getting the maximum performance from HPC and data-intensive applications requires fast and scalable storage software. Simply put, today's HPC workloads require storage infrastructure that scales endlessly and delivers unmatched I/O levels.
Intel® Enterprise Edition for Lustre* software (Intel® EE for Lustre software) unleashes the performance and scalability of the Lustre parallel file system for HPC workloads, including technical 'big data' applications common within today's enterprises. It allows end-users that need the benefits of large–scale, high bandwidth storage to tap the power and scalability of Lustre, with the simplified installation, configuration, and management features provided by Intel® Manager for Lustre software, a management solution purpose-built by the Lustre experts at Intel for the Lustre file system. Further, Intel EE for Lustre software is backed by Intel, the recognized technical support providers for Lustre, including 24/7 service level agreement (SLA) coverage.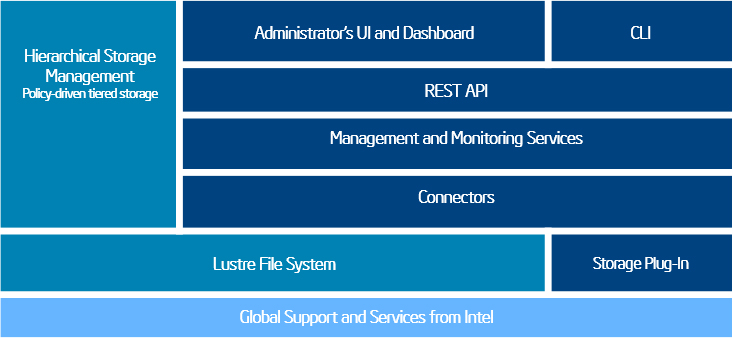 Product Components
Intel® Manager for Lustre*
Intel Manager for Lustre software includes simple, but powerful, management tools that provide a unified, consistent view of Lustre storage systems and simplify the installation, configuration, monitoring, and overall management of Lustre. The manager consolidates all Lustre information in a central, browser-accessible location for ease of use.
Integrated Apache Hadoop* Adapter
When organizations operate both Lustre and Apache Hadoop* within a shared HPC infrastructure, there is a compelling use case for using Lustre as the file system for Hadoop analytics, as well as HPC storage.
Intel Enterprise Edition for Lustre includes an Intel-developed adapter which allows users to run MapReduce* applications directly on Lustre. This optimizes the performance of MapReduce operations while delivering faster, more scalable, and easier to manage storage.
Benefits
Performance
Intel EE for Lustre software has been designed to enable fully parallel I/O throughput across thousands of clients, servers, and storage devices. Metadata and data are stored on separate servers to allow optimization of each system for the different workloads they present. Improved metadata scalability using Distributed Namespace (DNE) feature is now integrated in Intel Manager for Lustre. Intel EE for Lustre can also scale down efficiently to provide fast parallel storage for smaller organizations.
Capacity
The object-based storage architecture of Intel EE for Lustre software can scale to tens of thousands of clients and petabytes of data.
Affordability
Intel EE for Lustre software is based on the community release of Lustre software, and is hardware, server, and network fabric neutral. Enterprises can scale their storage deployments horizontally, yet continue to have simple-to-manage storage.
Maturity
Lustre has been in use in the world's largest datacenters for over a decade and hardened in the harshest big data environments. Intel EE for Lustre software is rigorously tested, reliable, and backed by Intel, the leading provider of technical support for Lustre software. Intel EE for Lustre software delivers commercial- ready Lustre in a package that can scale efficiently both up and down to suit your business workloads, with built-in manageability.
Key Features
Lustre powers 75% of the world's top 100 fastest computers (www.top500.org). Unleash the Lustre parallel file system as an enterprise platform—offering higher throughput and helping to prevent bottlenecks.
Built on the community release of Lustre* software
Intel® Manager for Lustre simplifies install and configuration
Enormous storage capacity and I/O
Open, documented interfaces for deep integration
Throughput in excess of 1 terabyte per second
Resilient, highly available storage
Centralized, GUI-based administration for management simplicity
Integrated support for Hadoop* MapReduce* applications with Lustre* storage
Rigorously tested, stable software proven across diverse industries
Flexible storage solution based on Intel-enhanced community release software
Global 24/7 technical support
What's New in Intel® Enterprise Edition for Lustre* Software v3.1 (Feature Release)
Intel® Enterprise Edition for Lustre Software and Open ZFS
Storage solutions based on Intel EE for Lustre software are designed to exploit the data resiliency and enhanced volume management capabilities available with OpenZFS. Improvements have been made to OpenZFS which improve overall metadata performance. With these changes, the file create rates with an OpenZFS backed metadata target are significantly increased.
Intel® Manager for Lustre* Software Supports OpenZFS Managed Mode
These enhancements allow the installation of OpenZFS packages, formatting of storage, and incorporation of storage volumes into the HA framework. Intel® Manager for Lustre simplifies the deployment and management of Lustre servers using OpenZFS. A new hierarchical drill-down view provides context-driven presentation of storage asset information. Users can navigate through the UI more easily, aided by a "tree view" and "breadcrumb" navigation. Updated jobstats monitoring displays the most active jobs consuming filesystem IO in an easy to read format. Jobstats monitoring makes it simpler for storage administrators to view and troubleshoot IO issues affecting the storage cluster.
Bulk IO Performance
Lustre support for RPCs up to 16MB in size, reducing the number of RPCs needed between clients and servers, improving performance for workloads that require large scale streaming IO.
Subdirectory Mounts
Allows clients to mount a child directory of a filesystem, restricting visibility of the Lustre namespace to a subset of the global directory structure. This limits a client's view of the Lustre directory structure to only those files within the named sub-directory tree.
Key Features in Intel® EE for Lustre* Software v3.0
Lustre 2.7: The latest stability fixes and performance enhancement from extensive production deployments and comprehensive test frameworks. Provides customers with the latest Intel® EE for Lustre* software core.

Online File Consistency (LFSCK): Online Lustre File System Consistency Checks (LFSCK) allow checks and repairs to be performed without downtime. In this release, LFSCK will verify and repair the Object Index (OI) table, directory FID-in-Dirent and LinkEA, MDT-OST file layout inconsistencies, and inconsistencies between multiple MDTs.

Single Client Metadata Concurrency: An update to metadata communications interface between client and server, which allows multiple metadata RPCs to be in flight in parallel, per-client for both read and write transactions.
Intel® Manager for Lustre*: Updates include support for latest RHEL* releases, UI refresh with new workflows, and improvements to responsiveness, performance, layout, and navigation.
Enterprise Edition Server and Client support for RHEL 7.2, 6.7 and SLES* 11 SP4 and client only support for SLES 12 and Ubuntu* 14.04. Provides the latest updates and security patches to customers.
Intel® Omni-Path Architecture Support: Intel® OPA is supported by Intel® EE for Lustre* software, as are all major HPC fabrics, including InfiniBand*. Intel® OPA fabric support is available for systems running RHEL 7.2.
Secure Clients: SELinux* support to enforce access control policies, including Multi-Level Security (MLS) on Lustre clients.

Secure Authentication & Encryption: Kerberos* functionality can be applied to Intel® EE for Lustre* software to establish trust between Lustre servers and clients and to support encrypted network communications.
OpenZFS Updates: Several performance and stability improvements after updating to the latest stable version (0.6.5). Improved I/O throughput for large files now that the dataset record size can be set up to 1MB.

Snapshots: A mechanism that is now capable of leveraging OpenZFS to take a coordinated snapshot of an entire file system (provided that all of the metadata and storage targets are formatted using OpenZFS). With this version, the snapshot is taken across the whole file system, which can be mounted on a Lustre client as a separate name space.
Dynamic Network Configuration: Powerful extension to the Lustre network (LNet) to simplify system administration tasks. Provides tuning and optimization of LNet while Lustre is still running on the target node. Add/remove and update LNet routers without effecting Lustre network traffic.
Hadoop* Adapter for Lustre and HPC Adapter for MapReduce. Compatible with Apache* 2.5 and Cloudera* 5.2. Provides integration between Big Data and HPC infrastructure and allows for a complete HPC job pipeline so that results can be immediately analyzed in place.
What's Beyond Intel® EE for Lustre* software v3.1
There are several features planned in the upcoming releases of Intel EE for Lustre software. Some include:
Metadata Scaling with Distributed Namespace (DNE):
Support for striped directories, providing performance scalability for metadata-intensive application workloads and file systems with huge file populations (billions of files). Coupled with Data on MDT, will lead to significant performance gains for small file IO.
LNET Performance Scalability and Durability:
Increased performance, resilience, and simplified configuration with mulit-rail LNET support.
Lustre Security:
New network encryption protocol, providing an alternative to Kerberos. Improved support for multi-tenancy and containers using sub-directory mounts and node maps to isolate sub-trees of the file system namespace to specific groups of clients.
Project Quotas:
A powerful and flexible extension to quota support, enabling adminstrators to associate files and directories with project identifiers, where each project has an independent quota. Project quotas operate across the entire file system structure.
OpenZFS Resilience:
A new data storage virtual device (vdev) supporting declustered parity RAID is in development for inclusion in a future release of the Linux port of OpenZFS. The new vdev class, called DRAID, dramatically reduces the time to repair degraded vdevs in a pool, reducing risk of exposure to data loss in the event of hardware failure. Fault management and monitoring improvements are also underway.