Changes of Intel(R) Media Strategy
The initial goal of Intel® Media SDK was to be a fully comprehensive API for video and audio use cases. Media acceleration via integrated graphics was new, and the concept of hardware-accelerated codecs was still starting.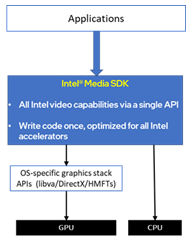 Intel® oneVPL represents a new approach to media programming to match current market needs. Hardware-accelerated codecs are established across several vendors. Intel® provides integrated and discrete graphics. It is now common for multiple graphics adapters to be available on the same system. Media frameworks are enabled for hardware acceleration for several vendors.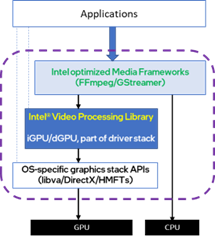 You have more options with the updated media programming model. Now you can mix and match approaches to meet the project needs. Use frameworks for initial evaluation, portability, containe or audio support, and fast TTM.
While oneVPL no longer attempts to be comprehensive, it is an excellent option for projects that differentiate based on advanced access to Intel® GPU features. The VPL-CPU project has closed for several reasons. The original scope was to preview VPL API changes while the oneVPL Intel® GPU implementation was under development. Now when the GPU implementation is well established, this API preview is no longer necessary. Users of Intel® Media SDK and oneVPL CPU implementations significantly boost functionality and performance by working directly with the industry-standard frameworks instead of calling them through oneVPL glue code. The multi-level media portfolio also provides more options to add interoperability with AI frameworks and align with ecosystem AI framework-enabling projects.

Did you find the information on this page useful?