Summary
Details on how to install the Windows 11* operating system if no internet connection is available.
Description
Trying to install the Windows 11* operating system on a new system, but the OS cannot locate an internet connect (wired or wireless) during setup.  Windows 11* requires this. How can I install the OS?
Resolution
During installation of the Windows 11* operating system you will notice that an internet connection is required to continue.
This can be a problem with new systems as the network drivers (software that enables the OS to see the wired/wireless hardware) may not be included in the Window Image.
As you see below, there are no options to select for a network or to continue: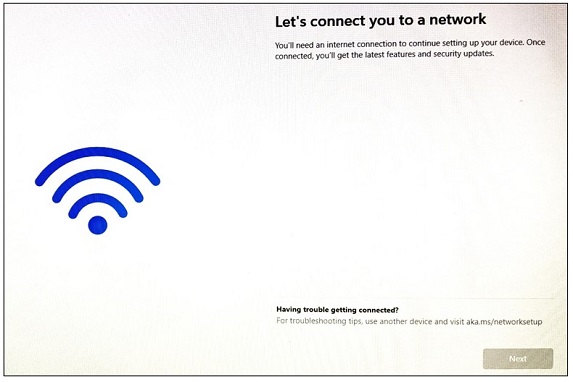 To get past this and be able to continue with the installation, do the following:
Press Shift+F10 to open the Command Prompt (on some laptops you may have to press Shift+Fn+F10)

After the prompt appears, you may have to do a mouse click on the window to type text

Type 

oobe\bypassnro

Press Enter.  The system will restart and begin the setup process again
Make the proper selections again for Region and Keyboards
Now at the Let's connect you to a network screen will have an additional option, click I don't have internet
On the next screen, click Continue with limited setup
Continue with the setup steps to complete the installation of the operating system.
| | |
| --- | --- |
| Note | In Windows make sure to download the proper Network drivers for the system.  Placing the model of the system in the search field here will show all available drivers. |