Summary
Steps to resolve Error Code 43 on Device Manager for the Intel® Graphics Display Adapter.
Description
In the Windows* Device Manager, the Intel® Graphics entry listed underneath Display Adapter shows a yellow bang.
Double-clicking on the Intel graphics controller shows the following error in Device status: Windows has stopped this device because it has reported problems. (Code 43)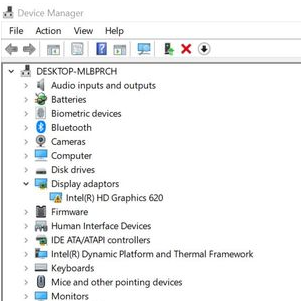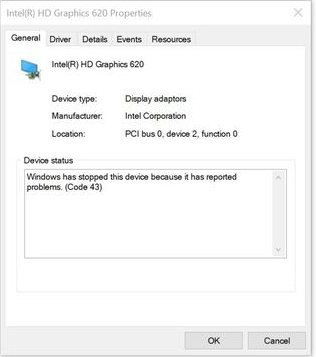 Resolution
Error Code 43 can be caused by hardware problems or driver or settings corruption. To address this issue, we recommend performing a clean install of latest graphics drivers provided by the system manufacturer, since these drivers are customized.
To perform a clean install of the graphics driver, follow these steps:
Get the latest graphics driver provided by the system manufacturer. 
Disconnect from the Internet to make sure the driver will not be automatically updated by Windows.
Uninstall both the Intel Graphics driver and the Intel Display audio driver. To do this, follow the steps on the link below under these sections:
Restart the computer.
Right-click the Windows Start button. Select Device Manager.
If no older drivers are stored in the system, the graphics controller in Device Manager should now be listed as Microsoft Basic Display Adapter,'Standard VGA Graphics Adapter or similar. If not, repeat step 2. Repeat the process until it is listed as Microsoft Basic Display Adapter.
Install the latest graphics driver provided by the system manufacturer in step 1.
Once the latest driver has been installed, enable the Internet connection again.
If the issue still persists, try the following:
Remove all third-party video adapters, converters, hubs, or docking stations. Try a direct connection (HDMI to HDMI, DisplayPort* to DisplayPort*, and so on) instead. Then, see if the error disappears. If it does, then proceed to update the drivers for the third-party component that's causing the issue.
Contact your system manufacturer for further assistance.