Intel® RST Driver and Intel® Optane™ Memory Capable App Version Mismatch After Update
What are you seeing?
The Intel® Rapid Storage Technology (Intel® RST) driver version shown in the Device Manager is not the same as the application version shown in the User Interface.
Note

If using the Intel® Optane™ Memory and Storage Management application, the version number of the application will not be the same as the driver version. This is expected behavior for this application, although it is always recommended to have the latest drivers installed for your configuration.
The Device Manager will always show the correct driver version.
Intel® Optane™ Memory Application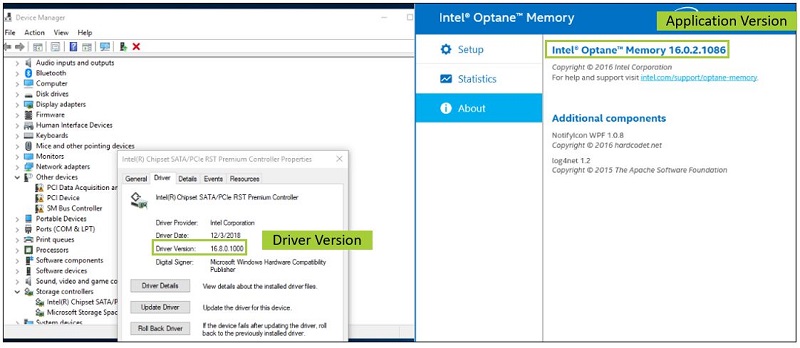 Intel® RST Application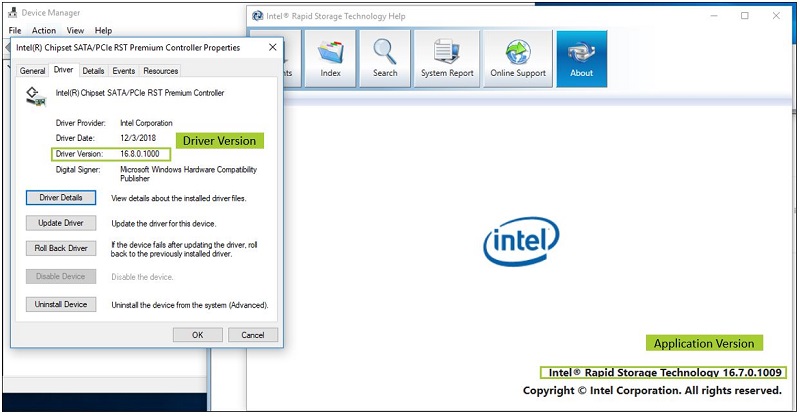 Under System Report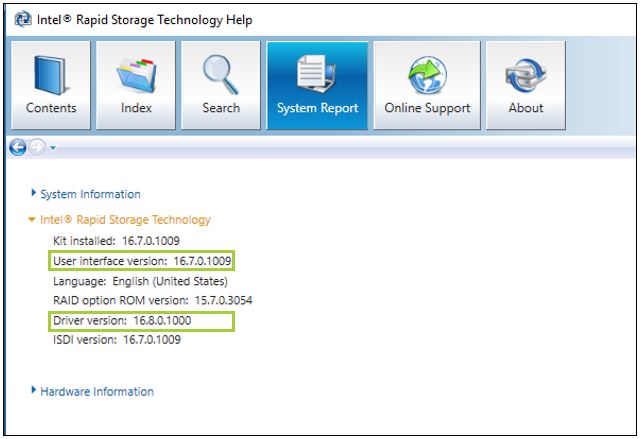 What is the cause?
When the driver is updated through Device Manager or Windows* Update, only the Intel® RST driver is updated and the related Intel® Optane™ Memory / Intel® RST application version is not.
When utilizing the Intel® RST or Intel® Optane™ Memory application, the application version and driver version should be the same for complete feature compatibility.
How to update the application to the same version?
To update the application the full installer package should be run. Please contact your system provider to obtain their full driver installer package.
| | |
| --- | --- |
| Note | Intel recommends that end users use driver updates provided by their system manufacturer/provider to eliminate the potential impact caused by loading non-customized drivers. System manufacturers regularly customize Intel generic drivers to meet the needs of their specific system design. In such cases, use of the Intel generic driver update isn't recommended. |
If you choose to update to the Intel generic driver it's recommended that you perform this driver update via the Intel® Driver & Support Assistant (Intel® DSA) tool. Intel® DSA provides an automated, simplified update process with no extra steps to perform, and may identify other needed important driver updates. If you aren't sure if this driver/update is applicable to your system click the link below. The Intel® DSA tool will provide the needed guidance and update the application to the latest version available.
Get started with the Intel® Driver & Support Assistant (Intel® DSA) tool.
For more information or assistance, contact Intel Support