Secondary/Data Drive Acceleration with Intel® Optane™ Memory
With the latest Intel® Optane™ memory and Intel® Rapid Storage Technology (Intel® RST) applications, versions 16.x or later, the Secondary/Data drive can be accelerated with Intel Optane memory modules.
Hardware/Software Requirements
For processor/chipset support requirements, see Software and Platform Support for Intel® Optane™ Memory.
Drives that are Type Dynamic aren't supported. Drive must be in Type Basic as seen in Disk Management (Windows logo + x and select Disk Management).
Secondary drive can be a SATA drive or an Intel® SSD 6 Series built on Intel® 3D QLC NAND drive and be formatted with a GPT partition.

Note

The system drive (the one that contains the operating system) can be a SATA or NVMe drive
With the Intel® RST/Application version 17.5.2.1024 or later, acceleration of the PCIe* NVMe* Intel® SSD 6 Series built on Intel® 3D QLC NAND drive is supported. Future driver releases will support the Intel® SSD 665p Series. No other PCIe NVMe drives are supported for acceleration

Intel Optane memory-enabled motherboard with the Intel® RST Pre-OS UEFI Driver version 16.x or later. Consult your motherboard vendor for the proper system BIOS version for this support.
Important notes
Statistics will only be displayed when accelerating a system drive.
Systems with two bootable drives—that is, one drive with one OS and another drive with a second OS—aren't a supported configuration, and results can't be guaranteed.
If the Intel® Optane Memory is enabled and the Intel® RST needs to be update, the module must be disabled first. How to Disable System Acceleration with Intel® Optane™ Memory.
All additional system requirements and BIOS settings are the same as noted in the Installation Guide.
With this additional capability, the applications now provide an option to select which drive to accelerate. You can see in the images below how this option will be provided in the applications with System in the title of the system drive.

Determine which application is right for you.
Intel® Optane™ Memory application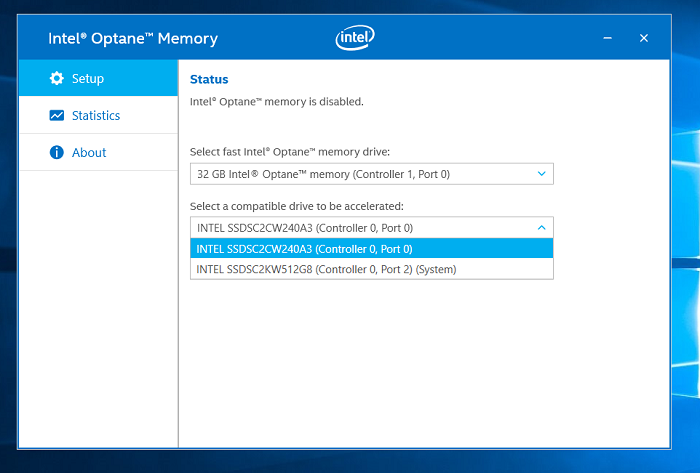 Intel® Rapid Storage Technology (Intel® RST) application