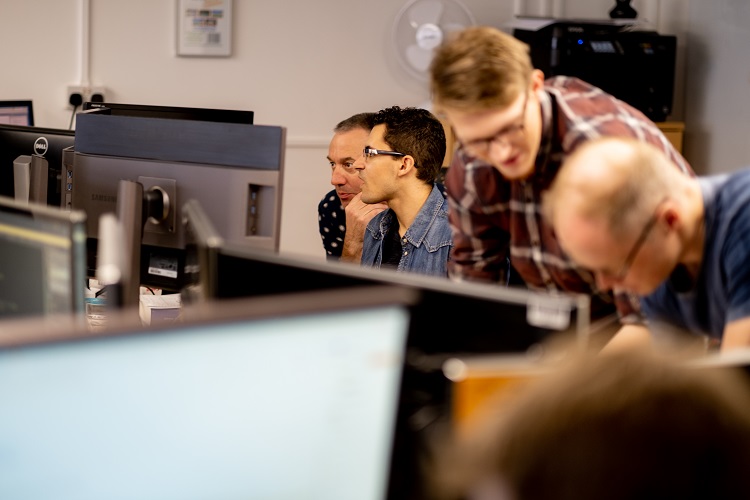 Polystream* Powers the 3D Visual Cloud with game-changing technology that is set to reinvent digital content delivery across industries.
Streaming the Future, Today
With the arrival of 5G, emerging network technologies and devices, and new infrastructures, consumers can enjoy interactive experiences wherever they go, whenever they want. The demand for streamed interactive content, whether it's games, cloud workflows or simulation training, is rapidly spreading across industries. Current accepted technologies are already beginning to fall short as demand continues to increase. Polystream is completely rethinking and rebuilding the streaming process, to deliver pixel perfect, real time interactive 3D experiences to new markets around the world, across verticals.
Cloud Gaming: a Streaming Opportunity, and Challenge, Unmet
Cloud gaming remains one of the most difficult problems to solve for platforms and publishers wanting to stream at scale. Currently, it's very challenging to serve tens of millions of people at the same time without enormous new investment in infrastructure. This is due in large part to the importance of a high performing GPU to render incredibly detailed visuals with speed and precision. It is eye-wateringly expensive to attempt putting a graphics processor in the cloud for every player.
Polystream* Makes it Possible
Rather than asking old technology to perform new tricks, Polystream reimagined the entire process from the ground up and developed a solution for (and beyond) cloud-gaming. Instead of putting more GPUs in the cloud, Polystream can send graphics commands and data to the billions of GPUs already in existence, in every corner of the globe. From there, Polystream tells the user's device what to draw, with no need for compressed video or downloads. By removing the need for GPUs in the cloud, Polystream is able to deliver 3D interactive content to millions of people, at the same time, at a fraction of the cost of current streaming solutions. This not only opens the playing field for publishers and distributors of all sizes, but is set to disrupt how all interactive content is streamed. In rethinking how we deliver games from the cloud, we also change the future of all interactive entertainment. Increasing capabilities while reducing expenses makes it possible to build entirely new experiences by harnessing the world's largest compute platforms.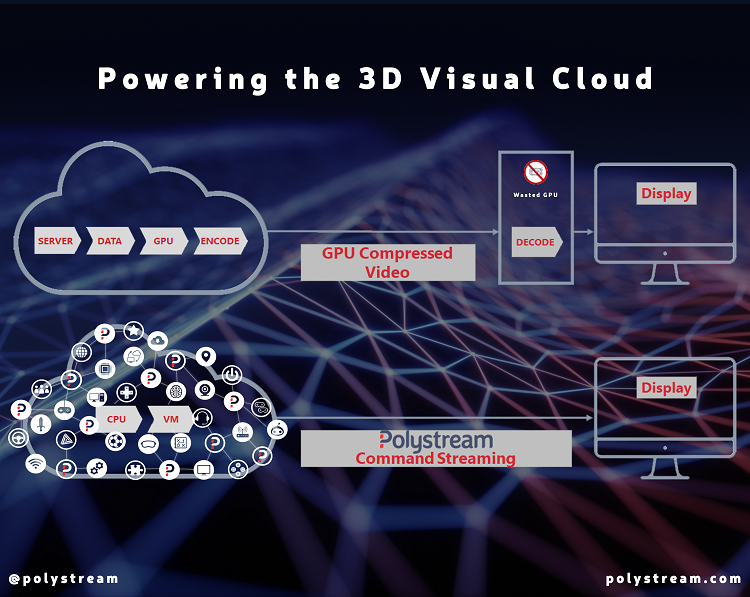 "Polystream is an infrastructure technology. We're an enabler and as an enabler we can cross multiple verticals. Whether we start with the future of cloud gaming, CAD and virtual desktop, or simulation training, ultimately Polystream is a technology that will power any type of 3D application."
— Bruce Grove, CEO and Co-Founder, Polystream
Opening the Field to More Players
With current video streaming solutions, lack of client awareness or optimization can cause critical failures. Polystream allows any platform to offer consistent, quality service to each, individual client. Existing technology has traditionally pre-rendered pixels and delivered what amounts to a compressed video stream. Polystream instead takes the GPU metadata and rendering instructions and delivers them to the end-client. The client's GPU then renders all graphics locally. Because the application can see the state of the client's GPU, performance requirements can be adjusted accordingly.
Games run on Intel® Xeon® based CPU on the server side where the Polystream virtual GPU interacts with the running games to extract GPU metadata and rendering instructions and delivers them to the end-client. A dedicated gamer with a high-end GPU (or multiple) would enjoy a beautiful, 4K experience delivered instantly, in all of its glory, with negligible latency. For a casual gamer looking to try new games via a streaming platform, Polystream would adjust the output to match the capabilities of the machine and deliver the best possible experience for the tightest game mechanics. This means casual gamers will be able to experience game streaming on a wider, more flexible range of PCs. Polystream can even leverage the existing GPU on a thin-and-light notebook to instantly deliver engaging gameplay on demand.
Gamers Will Get More with Better Gear
9th Gen Intel® Core™ desktop processors offer the serious performance needed to get more out of any game. With clock speeds of up to 5.0 GHz, 8 cores, 16 threads and compatibility with the latest standards and components, they're designed to deliver incredible performance on even the most demanding gaming titles. Gamers looking to level up can count on advanced overclocking features.
More Possibilities with Fewer Obstacles
Instant is the only option, when it comes to consumer expectations for digital content delivery. While Polystream makes it possible for en masse game-streaming to become as ubiquitous as video-streaming, it also opens the door for a future where streaming applications entirely replaces downloading. Avoiding expensive and unnecessary server GPUs promises tremendous cost-savings for publishers. Cloud-agnostic by design, Polystream rises above geographical and vendor restrictions to facilitate global accessibility at tremendous scale. Eventually, all digital content, even ultra HD games and applications, is destined to be streamed from, and even created in, the cloud. Polystream is poised to be the power behind that change.
Learn More
The future of streaming is powered by Polystream and Intel Core processors. Learn about Intel Core processors at Intel.
For more information on Polystream streaming technology, check out Polystream.
For more information on Intel Visual Cloud solutions, check out Visual Cloud Computing.