Artificial intelligence is speeding up industries, research, and commerce around the globe. For enterprises, it's not about if they'll incorporate AI into their strategy, it's when and how. While many are at the beginning of their AI journeys, we saw at Intel's recent AI Summit how quickly some have moved past their first steps and started to run. What's more, we saw how Intel is supporting these vastly different companies with a variety of solutions designed to fit their specific power level and performance needs.

AI in the Real World
Assisting Physicians with AI
Healthcare is one of the world's most data-intensive industries and an early adopter of AI solutions. Not only does it produce data in massive quantities in healthcare records, test results, and medical images, that data has to be handled with great care in terms of privacy concerns.
At the AI Summit, GE Healthcare showcased their Artificial Intelligence Prescription (AIRx), an automated workflow tool for magnetic resonance (MR) brain scanning that has received 510(k) clearance from the FDA. Built on GE Healthcare's Edison platform, AIRx uses state-of-the-art artificial intelligence to precisely identify and align MR scans for diagnostic neuroimaging. Using software optimizations, including the Intel® Distribution of OpenVINO™ Toolkit, GE Healthcare was able to reduce the total inference time from 2.85 seconds down to 0.659 seconds on their existing Intel® Xeon® processor-based platforms — improving patient care without increasing healthcare costs [1].
Infrastructure Maintenance
Pipe maintenance is a necessary and challenging part of maintaining water and sewer infrastructure. Finding out what's going on inside pipes has historically involved educated guesses by experts based on leaks, as opposed to direct observation of what's happening inside pipes. Wipro's Deep Learning/AI solution based on Intel Architecture changes that.
Pipe Sleuth used a small, motorized rover in the Washington, D.C. sewers to detect defects like cracks, leaks, root protrusions, deformations, blockages, or general wear and tear on the system. The rover was able to examine pipes more exactly and more thoroughly and safely than a human would have. In addition, using inference solutions powered by Intel® Optimization for TensorFlow and Intel Distribution of OpenVINO Toolkit, Wipro's Pipe Sleuth was able to analyze video scans and images in real time to identify which areas needed service. This dramatically reduced the overall amount of time needed for review, and it empowered infrastructure professionals to better maintain one of their city's most necessary systems. To learn more about Wipro's AI/DL solutions, listen to this podcast recorded live at the Intel AI Summit.
Intelligent Ad Insertion
Getting the right ads in front of the right audience or making sure your sales staff talks to the right potential customers is marketing 101. Traditional TV (and even Internet video or audio ads) often employed a shotgun approach to reaching audiences: They attach ads to popular media, and hope it reaches receptive customers.
The Visual Cloud Accelerator Card for Analytics (VCAC-A) is a power-efficient PCIe card for high density video/image analytics at the edge. At the AI Summit, Intel showed how the VCAC-A can deliver intelligent advertisements in a live streaming use-case by detecting key people, objects and sentiments in a video stream. The system, powered by an Intel® Core™ i3-7100U processor, allows advertisers to reach more targeted users in real time at a scale that was previously unheard of: simultaneous video decode and analytics on up to 24 streams.
Smart Colorized Photos
Colorized photos and film have a bad reputation. Supposedly, Orson Welles' last words were a plea to keep his movies from ever being tarnished by colorization. However, if the writer, director, and star of Citizen Kane was with us now, he might be fascinated by new technology from Adobe that transforms black-and-white images into vibrant color.
A new feature in Adobe's Photoshop Elements harnesses AI powered by Intel Deep Neural Network Library and Intel Distribution of OpenVINO toolkit to put high-quality colorization in the hands of everyday users. Previously, colorization was laborious, time intensive, and only done by experts. Thanks to machine learning, though, colorization of old images is easy, quick, and available to anyone. Images from the past can come to life with the colors of the present in a single click, thanks to AI. And, best of all, the results are so good you often can't tell a colorized black-and-white image from on that was originally captured in color.
"Zoom and Enhance" in Real Life
A character telling a computer system to "zoom and enhance" on a photograph or bit of footage is a mainstay of fiction. However, Hollywood movies and TV shows have tended to exaggerate the abilities of image-rendering software. In real life, zooming in on photo usually just shows you a close-up of pixels.
Topaz GigaPixel AI changes that. Using generative AI algorithms, the Intel Distribution of OpenVINO toolkit, and Generation 11 graphics on next-generation Intel Core processors (code named Ice Lake), Topaz Labs allows software to "imagine" additional details into an upscaled low-resolution image. Instead of just zooming in on blurry lines, users will be able to see what the AI imagines the fine details of something to look like. This makes images far more useful for graphics designers and photo editors who use photos of different sizes and resolutions to create a single asset, such as a composite photo.
Detecting Deepfakes
Deepfakes, altered or fabricated videos where the image of a person is made to say or do things they did not actually say or do, present a potential challenge to media, democracy, and the very idea of truth. Fortunately, AI professionals are already at work on developing the technology necessary to detect deepfakes. Zeff showed off a method of AI-powered deepfake detection powered by Intel Xeon processors. Zeff's methods focus on blood flow throughout the face. The human eye might not be able to see all the way down to the blood vessels, but AI can, and it can tell the real faces from the pixels. Their solution, which relies on data generated over a period of time, depends upon the massive memory capacity available in Intel Xeon processor-based platforms.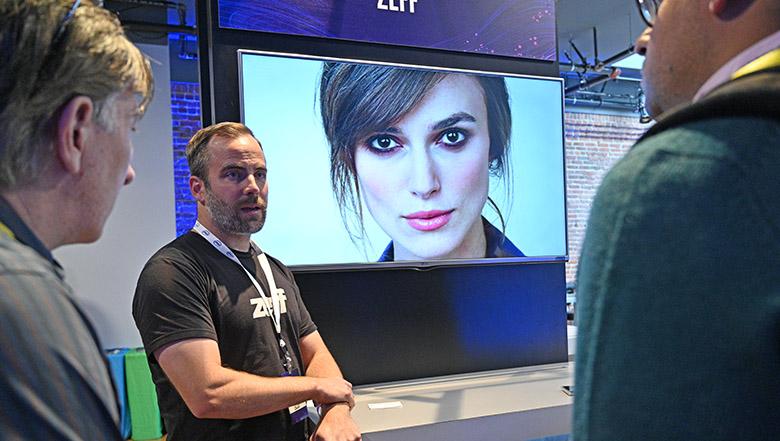 Enabling AI Everywhere
At the AI Summit, Intel demonstrated products that provide customers with a wide range of compute and power needs and provide strong support for a vibrant AI-everywhere world.
The Intel Nervana™ Neural Network Processors use purpose-built domain-specific architectures that enable large-scale deep learning training and inference systems. At the Summit, Intel showed off their potential to accelerate large-scale AI workloads while simultaneously keeping TCO and power use low. Our customers are already excited about the possibilities. "As part of our longstanding collaboration with Intel," said Siemens Healthineers Sr. VP Dr. Dorin Comaniciu, "Siemens Healthineers is very excited to be in early testing with the Intel Nervana NNP-T and NNP-I products for performance in deep learning training and inference." Looking ahead to future opportunities, Wipro Sr. VP Harmeet Chauhan said, "We expect Intel NNPs to break new ground in AI technology, and are excited about these product offerings. We believe it will make Intel's AI portfolio strong and diverse enabling enterprises like Wipro to deliver an array of AI solutions." Other leading edge AI customers, including Facebook and Baidu, are already working with Intel to accelerate deep learning development using NNPs.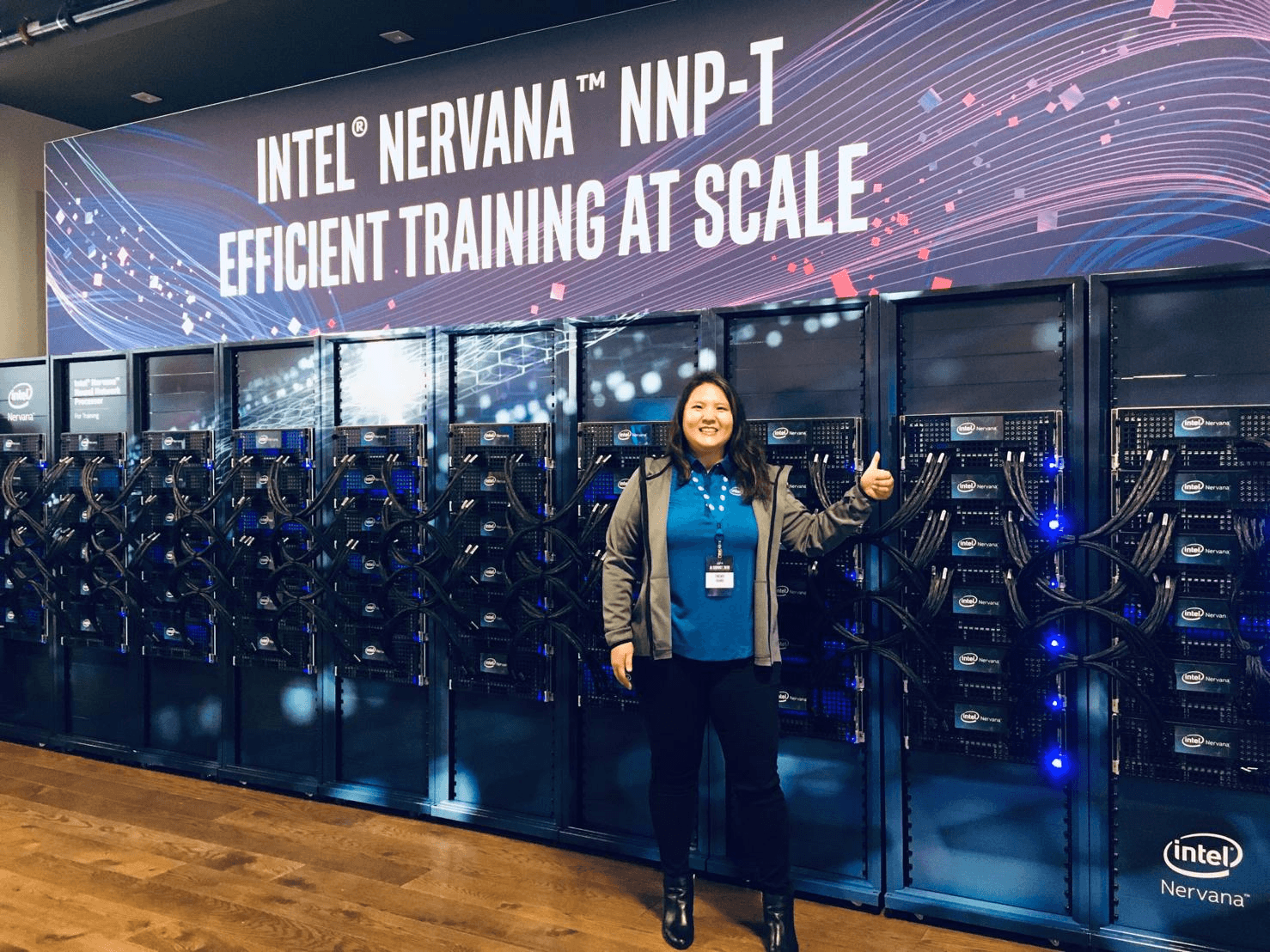 Other Intel technology on display included the first demonstration of bfloat16 numerics on the next-generation Intel Xeon Scalable processor (codenamed Cooper Lake). This new feature is part of the Intel Deep Learning Boost family of AI-specific processor instructions built into the silicon. It enables lower precision execution than traditional FP32 using a smaller memory footprint. This leads to significantly higher throughput while maintaining the same accuracy rate.
Lastly, Intel also offered a side-by-side comparison of the AMD Epyc 7742 (64 physical cores) and the 2nd generation Intel Xeon Scalable 8280 (28 physical cores) processor with Intel DL Boost. Summit-goers got to see that overall performance is not just about core count, but about comprehensive attention to a variety of technologies designed to seamlessly work with hardware. Using Intel DL Boost, the Intel Xeon Scalable 8280 processor executes instructions in parallel rather than in serial, at 2.33x faster than the AMD Rome 7742, using fewer cores [2]. This type of performance underscores the importance of Intel's investment in embedded acceleration technologies that enable hardware to perform at a higher level.
Continuing the AI Journey
Intel is dedicated to helping every industry get to an AI everywhere world. That's why we're enabling a robust program of developer training and tools to create an AI ecosystem where participants across multiple industries can find various ways to thrive.

[1] Performance results are based on testing by GE Healthcare from November 2018 through January 2019 and may not reflect all publicly available security updates. Please see https://www.intel.ai/solutions/gehc-airx/ for complete configuration details.
[2] Performance results may not reflect all publicly available security updates. Configuration detail: www.Intel.com/2019xeonconfigs for complete configuration: # 32. Recommender Engines Up to 2.35X Faster on 2-Socket Intel® Xeon® Platinum 8280 Processors with Intel® Deep Learning Boost (Intel® DL Boost).
Intel technologies' features and benefits depend on system configuration and may require enabled hardware, software or service activation. Performance varies depending on system configuration. No product or component can be absolutely secure. Check with your system manufacturer or retailer or learn more at intel.com.
Intel, the Intel logo, and Xeon are trademarks of Intel Corporation or its subsidiaries in the U.S. and/or other countries. Other names and brands may be claimed as the property of others.
© Intel Corporation