How To Identify the Product ID and Serial Number for an Intel® Arc™ A-Series Graphics Card
If you need to identify your Intel® Arc™ A-Series Graphics Card (to troubleshoot issues, find the correct graphics drivers, check your warranty, etc.) use the information below.
QR Code
Scan the QR code on the back of the graphics card itself using your personal device of choice. Scanning the QR code will provide the same information on your phone. The serial number and product ID are also by the QR code.
When making a warranty request, use the QR code near the PCIe as shown in the photo below to get the full serial number. It can also be found on the box packaging starting with "ADNF".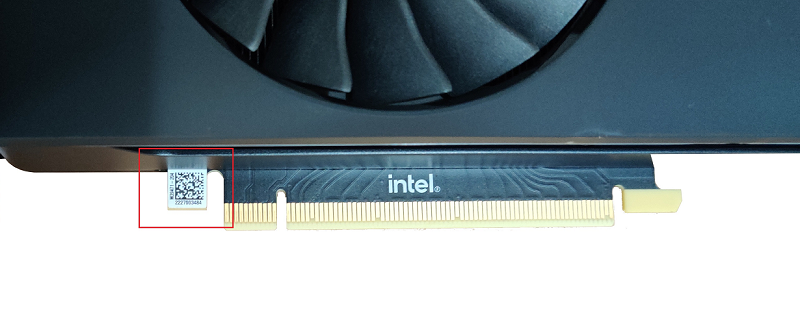 The product name, product ID, and serial number will be necessary if you want to open a warranty claim. If you have an Intel Arc Branded Card that is made directly by Intel and want to request warranty support, you can find more information on our support site..
For Arc cards sold as components in pre-built systems, or Arc cards made by a partner manufacturer, you will need to go to the original manufacturer or the retailer you purchased your system from for warranty support.