Warranty Return Reminder for the Intel® Server Board S1200SPO, S1200SPOR, and S1200V3RP Families
In the event that the Intel® Server Board S1200SPO or S1200SPOR needs to be returned to Intel for a warranty, it is important that the backplate (see image below) be uninstalled prior to returning the board.
This backplate makes it possible to screw the 1U heatsink solution on a 1U Intel® Server System to the board. The replacement board ships without the backplate installed. You're required to reuse the backplate to successfully hold the heatsink.
Detach the backplate from the board with a box cutter or flat-head screwdriver as shown by the pictures below: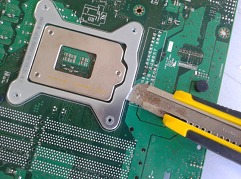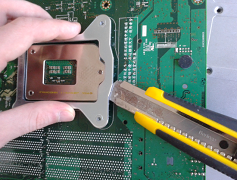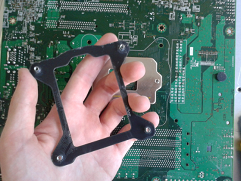 This part is glued to the board. The remaining glue on the backplate is sufficient to adhere the backplate to the RMA board. You don't need to add any more of the glue when reinstalling it to the replacement board.
Alternatively, you can purchase the backplate using this part number: F1UE3PASSHS. This part includes this backplate as well as a 1U heatsink.
This part is compatible with Intel® Server Boards S1200SPO, S1200SPOR, S1200V3RP, S1200V3RPO, S1200V3RPM, S2400EP2.