Do Not Place Sticker on Integrated Heat Spreader for Desktop Processors
---
Last Reviewed: 04-Sep-2017
Article ID: 000007943
Don't place a sticker or any other material on top of the processor Integrated Heat Spreader (IHS). Only Thermal Interface Material (TIM) should be applied between the processor IHS and the fan-heatsink. Using any other material will degrade the thermal transfer between the processor, the IHS, and the fan-heatsink. This could potentially damage the processor and void your warranty. See below for an example of what not to do.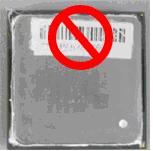 The best way to identify and track a processor sold through your place of business is by documenting the Unique Unit Identifier (ATPO/SN) on the invoice. An example is pictured below that illustrates where this can be found on an Intel® Core™2 Duo processor E6700 and other desktop processors.
Consult the appropriate processor Specification Update for where the ATPO/SN is located if you are encountering trouble finding it. This information may be found under the technical documents tab on the applicable Intel® desktop processor family support site.