How to Apply Thermal Interface Material (TIM) for Intel® Xeon® Processors
You use Thermal Interface Material (TIM) to provide efficient thermal exchange between the processor Integrated Heat Spreader (IHS) and the fan heat sink. Proper installation of the TIM is crucial to the success of the heat sink. Failure to properly install the TIM can cause the processor to overheat, potentially damaging the processor, and voiding your warranty.
Most fan heat sinks shipped with boxed Intel® Xeon® Processors have a 3-bar application of TIM applied to the bottom of the heat sink. If you see the 3-bar application of TIM, don't apply more. Watch the processor installation video for the LGA1156, LGA1155, and LGA1150 sockets.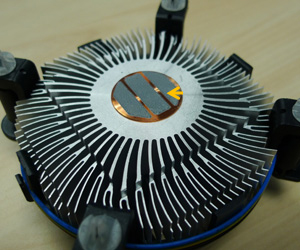 This photo shows a processor with used TIM that needs to be replaced. A good general guideline to follow is to replace the TIM if you are removing the fan heat sink or processor.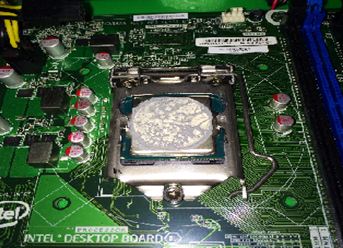 You can order TIM replacement kits through Intel Customer Support. The Intel part number is E94211-001 for the syringe, and G15816-001 for the pillow pack. As an alternative, you can order from retail sites like Newegg or other online retailers.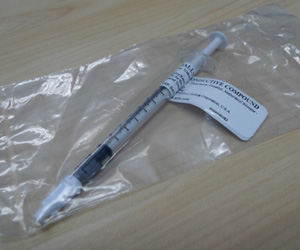 | | |
| --- | --- |
| Caution | Never touch the TIM as any foreign substances (such as oils from your skin, or chemicals) can reduce the effectiveness of the thermal contact. TIM is very prone to smudging and must not be touched. |
To apply the TIM, follow these steps:
1
Wipe off used TIM on the heatspreader with a soft, dry cloth or tissue.
Make sure the processor is free from oil, dust, and any other debris. But, be careful not to touch the gold contacts on the bottom of the CPU.
Install the processor in the socket.
2






Prepare the TIM, using either the syringe or pillow pack.

Syringe method
Remove the syringe from the protective plastic covering.
Open the tip of the syringe by twisting off cap.

Pillow pack method
Cut the package on the dotted black line.

3

Apply the TIM to the center of the Integrated Heat Spreader surface, using either the syringe or pillow pack method.
4
This picture shows the approximate amount of TIM to apply.

After the processor is working, it heats up, and the TIM spreads across the top of the processor and the bottom of the fan heat sink.

5
Install the heat sink.