Retrieving a Diagout from an Intel® Modular Server System
Retrieving a diagout, diagout.user.htm, or diagout.htm.zip
To download a diagnostic report for troubleshooting:
Choose Diagnostics from the left navigation frame.
Choose the Service Data bar.
Click the User Diagnostics link.
Click the Download Result link after the test has finished.
Choose a destination for the saved file.
Choose Save.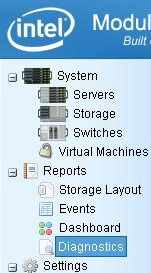 Running the reports doesn't change the state of the system.
I have the user diagout. Which sections do I check?
Firmware: Is the system running the latest build?
Dashboard: Look for errors or recommended actions.
Event Log Table: Look for errors or issues.
All Component Status: Are all the components responding?
Storage Layout: Firmware revisions on hard drives must match each other.
What do I do if the event log shows: GUI failure to communicate with the Storage subsystem?
This message shows during a firmware update, and it's harmless only if followed by:
Storage Control Module Firmware Update Successful.