Processor Insertion/Removal Tools for Intel® Server Boards
Intel has been working to reduce LGA socket damage for the industry. The socket contacts are fragile and can be easily damaged if touched.
Example of a bent contact on an LGA socket: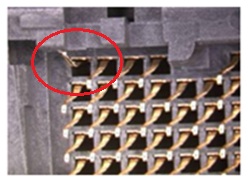 Intel has developed tools to provide consistent, controlled motions for inserting and removing socket covers and processors on Intel® Server Boards.
There are tools available for these socket types:
LGA1155
LGA1156
LGA1356
LGA1366 HEDT
LGA1366 server
LGA1567
LGA2011
Refer to the product guide or technical product specification for your server board to identify the type of socket it uses.
Intel is working with CCI to manufacture and distribute these tools. Contact CCI to place tool orders (even prior to tool release) using the part numbers listed below.
Order information
Tool Type
Tool Image
For Socket Type ...
Part Number
Availability
Socket cover removal tool

LGA1155
LGA1156
G29360
Available now
LGA1366
G29361
Available now
LGA2011
G29362
Available now
High volume processor insertion/removal tool and stage (for factory use)
LGA1155
LGA1156
Tool: G17794
Stage: G21825
Available now
LGA1366
Tool: G21818
Stage: G21826
Available now
LGA2011 45MM
Tool: G21829
Stage: G21827
Available now
LGA2011
51MM
Tool: G66730
Stage: G21827
Available now
Low volume processor insertion/removal tool (for field use)
LGA1155
LGA1156
Tool: G29483
Optional cover: G34436
Available now
LGA1366
Tool: G29480
Optional cover: G34431
Available now
LGA1567
Tool: G29481
Optional cover: G34433
Available now
LGA2011
Tool: G29477
Optional cover: G34430
Available now