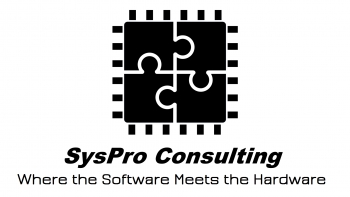 SysPro Consulting, LLC
SysPro provides low-level software, firmware, and hardware engineering consulting services. This includes the development of custom bootloaders, device drivers, and embedded systems for military, industrial, commercial, and consumer applications.
Address
3057 E Muirfield St
Gilbert, AZ, 85298-9066
United States
Industry

Transportation and Warehouse
Automotive
Defense and Space
Communications
Manufacturing
Company Resources

a5Q3b000000END9EAO_a5S3b0000016Ny4EAE
Resource Type: Thumbnail Image
Syspro Consulting LLC
Resource Type: Product Brief
Offerings
Offering
Custom Intel® Bootloader firmware solutions as alternatives to a full UEFI BIOS for Intel customers. Coreboot, Slim Bootloader, and custom bootloader solutions integrated with the Intel® Firmware Support Package. Intel® Firmware Support Package customizations to meet specific requirements. Highly customized solutions for specialized applications. Support for unique/atypical/outside-the-box requirements and features. Boot time optimization.