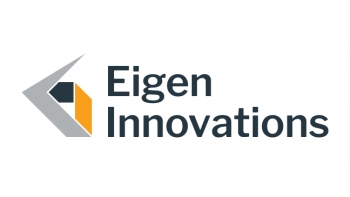 Eigen Innovations Inc.
Eigen Innovations develops software tools and services that help manufacturers, integrators and automation consultants unlock the power of machine vision. We have bundled our software to develop application-specific solutions that are helping manufacturers solve complex issues in factories across North America and Europe.
Address
444 Aberdeen St
Suite 255
Fredericton, New Brunswick, E3B 1S1
Canada
Regional Coverage
Americas:
Latin America Region
North America Region

Asia, Pacific, and Japan:
Southeast Asia
Australia and New Zealand
Japan
Taiwan
Korea
South Asia

Europe, Middle East, and Africa:
Central Eastern Europe
Western European Union Region
Commonwealth of Independent States
Northern European Union Region
Southern European Union Region
Central European Region

Use Cases
High Performance Computing
Machine Condition Monitoring
Collaboration
Factory Automation
Artificial Intelligence : Anomaly Detection
Artificial Intelligence : Deep Learning
Artificial Intelligence : Image/Object Detection/ Recognition/Classification
Artificial Intelligence : Machine Learning
Advanced Analytics
Company Resources

Eigen Innovations Case Studies
Resource Type: Case Study
a5Q3b000000LOxkEAG_a5S3b000000B6FaEAK
Resource Type: Thumbnail Image
Eigen Smart Vision for the Smart Factory
Resource Type: Product Brief
Moving Machine Vision from Inspection to Prevention
Resource Type: Articles
Offerings
Offering
Eigen Machine Vision is a suite of software tools and engineering services that helps manufacturers in both discrete and continuous manufacturing unlock the value of image data to better manage product and process variability across their machines, lines, and factories. It features Intel®-powered, OpenVINO™- optimized Edge devices that ingest image data from camera sensors and process data from machines and PLCs. Data is enhanced, standardized, and correlated to create a digital twin of each monitored part. These digital records are then used to create machine learning models that are pushed back to the Edge devices enabling real-time prediction of process and quality drift. When deployed across multiple machines and lines, the standardized data allows for advanced analytics and insights, providing consistent metrics and the ability to drive broader continuous improvement. Eigen Machine Vision is a modular platform. As a complete solution, it gives manufacturers, integrators, and automation solution providers a scalable product and process intelligence platform. Deployed separately, the tools and services can upgrade existing machine vision systems that enable enterprise-wide digital transformation and automation. Manufacturers that have deployed Eigen Machine Vision are mitigating the risk of defects, reducing waste and equipment downtime, and realizing hundreds of thousands of dollars in savings per line annually. While it has been designed for deployment across various manufacturing applications, Eigen has developed several application-specific solutions: Eigen Vision for Plastics; Eigen Vision for Metal Parts; Eigen Vision for Paint; Eigen Vision for Textiles, and Eigen Vision for Paper. Additional information about these solutions and specific case studies are available in the collaterals attached to this solution overview.