Overview
In every location in which Intel does business, laws and regulations govern trade. Compliance with U.S. export laws and regulations govern the export of both tangible and intangible articles whether within the United States or abroad. No Intel transaction that is contrary to this policy may be executed under any circumstance.
Product ECCN Search
For Product Specifications and Trade Compliance Information on a specific product, please search your product (name, material or product number) in the search field provided. For detailed instructions on how to locate the export classification information within the ARK tool, please see the FAQs section below.
Export Assurances
Intel's screening process includes but is not limited to collecting End User Certifications ("EUC") and End Use Statements ("EUS") to obtain appropriate assurances from our business partners and customers that they will comply with the required laws and regulations as it applies to Intel products.
Legal Disclaimer
Intel's classification search tool is for general information purposes only and is strictly a recommendation to the user. It does not constitute legal or export advice and should be used in conjunction with the U.S. Export Administration Regulations and applicable country-specific export laws or regulations when assessing U.S. and foreign export requirements. The information on this site and in the tool is subject to change without notice.
Intel makes no representation or warranty as to the accuracy or reliability of any technology specifications or export designations. Classifications are provided "AS IS" with no warranties whatsoever, including any warranty of merchantability, noninfringement, fitness for any particular purpose, including export, or any warranty otherwise arising out of any proposal, specification or sample. Intel disclaims all liability, including liability for infringement of any proprietary rights, relating to use of information in these classifications. No license, express or implied, by estoppel or otherwise, to any intellectual property rights is granted herein.
Without prior authorization from the U.S. government, Intel goods, software, technology (including technical data), and services may not be exported, re-exported, or sold, directly or indirectly, to:
• Any E:1 (as defined in the EAR) or sanctioned country; or
• Persons or entities on any restricted list maintained by the U.S. government or any foreign governing agency, including but not limited to: the Specially Designated Nationals List, Denied Person's List, Entity List, Unverified List, Debarment List, System for Award Management debarment list, or Nonproliferation List; or
• Persons or entities known or believed to be involved in the design, development, manufacture, or production of nuclear technology, or nuclear, biological or chemical weapons of mass destruction.
FAQs
Q. Are there countries or destinations to which I cannot ship Intel products?
A. Yes. Intel hardware and software is marketed and distributed worldwide, under various export authorizations. This means that it could potentially be exported to all countries except those that are restricted under U.S. or local law. For Intel export classification information, please see the Product Search section above. For more information, please consult with your legal counsel.
Q. What can you tell me about restrictions on encryption in countries other than the United States?
A. Many countries have laws potentially affecting the export or use of encryption; however, these laws may or may not apply to mass-market software products. All exporters must observe the specific licensing processes and policies of those countries. You should consult with your legal counsel for clarification of specific laws.
Q. Are Intel microprocessors subject to §744.17(a) of the U.S. Export Administration Regulations?
A. Many Intel microprocessors meet the technical specifications set forth under §744.17(a) of the U.S. Export Administration Regulations: (a) 5 GFLOPS or more of processing speed; and (b) an arithmetic logic unit with an access width of 32 bit or more. Please contact export.classification@intel.com to confirm if a specific processor SKU meets the technical specifications listed in EAR 744.17(a).

Q. Where can I find more information about the Adjusted Peak Performance (APP) value of Intel microprocessors?
A. APP calculations are based on the formula published in the United States Department of Commerce Export Administration Regulations 71 CFR 20876, and are stated in Weighted Teraflops (WT). For more information on APP, please go to http://www.intel.com/support/processors/sb/CS-017346.htm.


Q. Where can I find the export classifications for Intel products?
A. Intel makes export classification information for Intel products available at ark.intel.com. The Search field above under the Product Search section will also search ARK. Follow these simple steps:
1. Search for your product in the search field.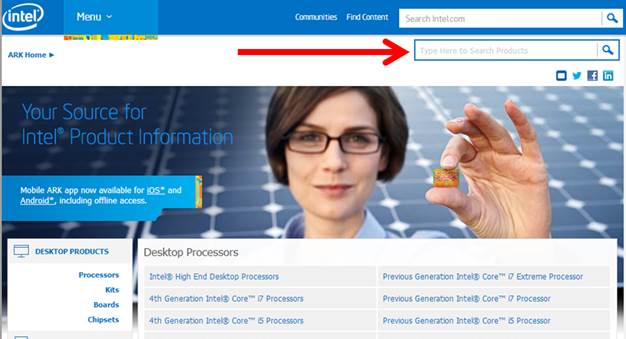 2. Once you have found the desired Intel product, click on the "ORDERING / SSPECS / STEPPINGS" link at the bottom of the left side menu.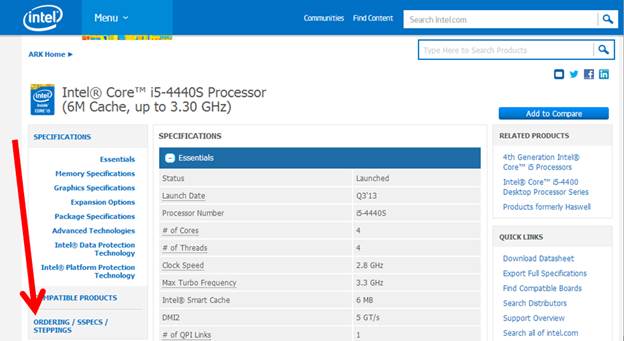 3. Note that the ECCN, CCATS, and HTS information is available under the Trade Compliance Information section.
Q. I could not find the export/customs classification information I needed on Ark. How else can I obtain export classification information for Intel products?
A. If you could not find the information you need on Ark, please email your request referenced with the product part number and description to export.classification@intel.com. Please allow up to 3 business days for us to provide the requested information before following up on your request.
Q. How do I interpret the suffixes to the INTEL ECCNs?
A. Intel has added suffixes to the ECCNs for internal processing. See table below for explanation.
| Intel Suffix | Suffix Definition |
| --- | --- |
| R | 740.17(b)(2) |
| U | 740.17(b)(3) |
| c | 742.15(b)(3) US Mass Market Approved |
| * | No French Declaration in place |
| # | Special designation for import-restricted boards |
| N3 | Mass Market classification for all of general purpose commercial components |
Q. What are export controls? Where can I find information about U.S. export controls and regulatory agencies?
A. For more information on U.S. export controls, please see the U.S. State Department's list of relevant agencies, their respective roles, and links to their websites and the U.S. Export Administration Regulations found at www.state.gov/strategictrade/resources/c43182.htm.
Q. Our company requires an Export Product Classification questionnaire be completed. Can Intel complete our questionnaire?
A. Intel's policy is to only provide product ECCN and CCATS information. See ark.intel.com for this information. Detailed instructions on how to locate the export classification information can be found in this FAQs section above.