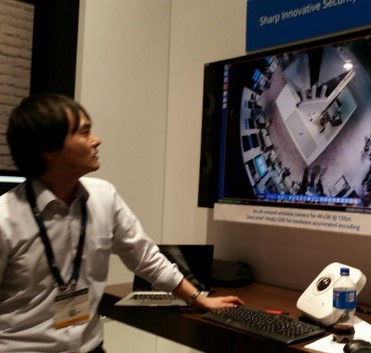 With digital surveillance and security concerns now an everyday part of life, SHARP has unveiled a new omnidirectional wireless, intelligent, digital security surveillance camera to better meet these needs. Built with an Intel® Celeron® processor (N3160), SHARP 12 megapixel image sensors, and by utilizing the Intel® Media SDK for hardware accelerated encoding, the QG- B20C camera can capture video in 4Kx3K resolution, provide all-around views, and is armed with intelligent automatic detection functions.
As demand for digital security and surveillance solutions and the Internet of Things (IoT) is growing - top camera systems used in this space incorporate multi-channel streaming, real-time software-based analytics, event-triggered alerts and more. Sharp combined its expertise in security products and camera sensors with the powerful, efficient Intel® Celeron® processor and Intel® Quick Sync Video-enabled graphics processors to create its new, video surveillance QG- B20C camera, which delivers fast video capture, encoding and smart analytics.
"This is an excellent example of Intel visual compute technologies in use that help advance the digital security industry for smarter cities and safer communities. Intel's hardware and software building blocks coupled with Sharp's innovative camera represent one of the endless opportunities that both enterprise and consumers will experience with high-definition video content," says Jeff McVeigh, Intel Software and Services Group vice president and Visual Computing Products general manager.
The SHARP QG- B20C camera's advanced functions include all-around video capturing, h.264/AVC encoding and streaming in 4Kx3K (4,064 x 3,048) resolution with 15 FPS rate. With Intel architecture inside, the QG- B20C camera can perform various computer vision analytics, such as:
Intrusion detection (in 8 distinct areas)
Objects left behind/removed
Line crossing/loitering (15 distinct detection areas )
Queue length/crowd detection (people counting, congestion etc.)
Parking space/lot monitoring (100 distinct areas)
And more
The camera can trigger video recordings and provide electronic notification when certain actions are detected or enable/disable per time of day or day of the week (see Figure 1). Intel architecture helps the QG- B20C camera perform these computationally-intensive applications "at the edge" to decrease alert and response latency times, reduce network bandwidth and video storage costs, and enhance overall system performance. Sharp also has a new Access Points wireless connection product, QX-C300, powered by Intel® PUMA™ 6.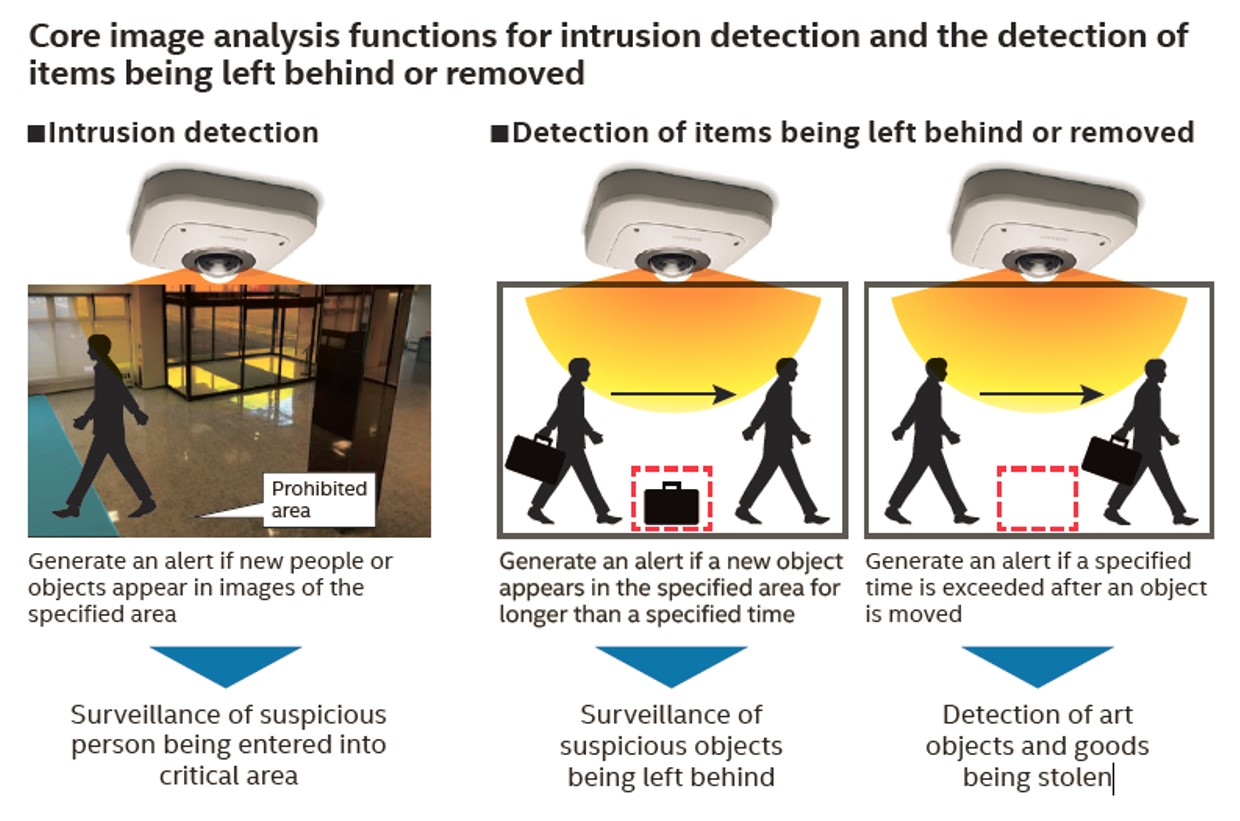 "We launched the new business of IoT, Smart Network Business, with a new type of wireless access point, QX-C300. At the same time, SHARP is providing not only devices, but also solution services together as the Smart Network Business. QG-B20C is the second product for this business. Using Intel architecture, media accelerators, and media software helps us bring these new innovative products to market faster and with stronger competitive capabilities," says Shingo Fueta, Sharp Smart Network Business Promotion Department manager.
The Sharp QG- B20C camera was previewed in April at NAB Show, the world's largest media and broadcasting industry event. Learn more in this case study, and at the Sharp site.
Additional Resources
Using Visual Compute Technology for a More Secure Tomorrow