Increasing Image Expectations are Becoming Unsustainable
The better technology gets, the more the consumer expects. From Skype* to mobile movies, consumers expect a high-definition experience every time, from everywhere. The low tolerance for low quality can lose a viewer, and ultimately a customer, in a few blurry moments. The gap between expectation and reality leads to dissatisfaction on both sides, as profits fall for businesses and costs rise for consumers. Trying to keep up with expectations using traditional means causes more problems.
Visual content takes up a lot of space. It eats up storage, which can become costly, and it is a glutton for bandwidth. Higher resolution compounds both issues. So, while cameras are getting better all the time, the availability of 4K imagery can still feel out of reach at the end of the line.
Orbo* was founded in 2015 as a computer vision research entity that brings AI automation to camera and imaging applications products. The primary focus of Orbo has been to bring visual enhancements using a real-time, super resolution technology for video and images, as well as contextual enhancement using SmartFix* that was difficult to achieve before.
"OpenVINO™ [toolkit] is the key to real-time deployment of ORBO's super resolution at the edge."
—Manoj Shinde -CEO, ORBO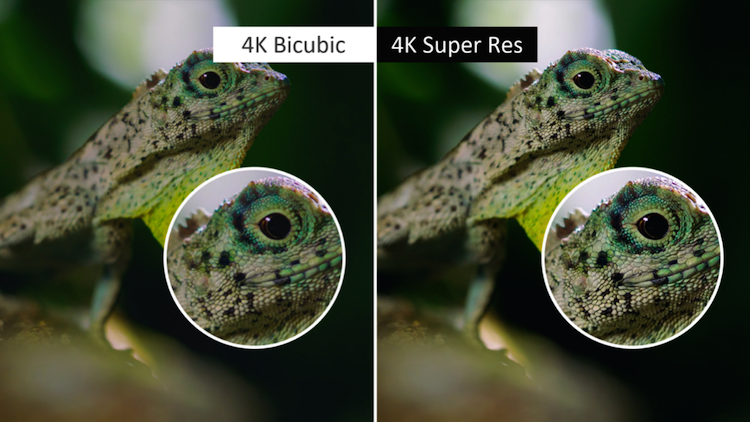 Figure 1. Bicubic versus super res
Help from Intel Technical Support
Orbo's solution takes low-resolution raw frames and converts them into high resolution, high-quality frames. With the help of Intel technical support, Orbo was able to use the OpenVINO™ toolkit, Vector Neural Network Instructions (VNNI), VTune™ analyzer, and Intel® Thermal Analysis Tool (Intel® TAT) for the optimization of a super resolution solution on Intel® platforms. Unlike competitors that use a basic machine learning algorithm or deep learning for image upscaling on a server, Orbo focuses on taking its solutions to edge devices.
High-Definition Democratization
Orbo works inside the browser and requires only a lightweight model with minimalistic parameters, without the need for a server. This promises to make high-resolution image viewing available to a dramatically wider audience without overburdening servers or requiring expensive hardware upgrades. From content creators to content consumers, Orbo promises to reduce costs, improve access, and ultimately improve satisfaction.
For original equipment manufacturers (OEMs), ORBO's Super Enhance SDK provides the advantage of enhancing the low-resolution images and videos at device level. With this advantage, OEMs can offer a pipeline to camera utility apps, image viewers, and video player apps to save bandwidth or enhance the user experience. With AI-based super resolution inference you get better performance on 10th Gen Intel® Core™ processors using Intel® Deep Learning Boost (Intel® DL Boost) through the OpenVINO toolkit. Running a 720p webcam can output 1080p or 4K in real time for dramatically improved video calls. OEMs and their consumers can invest more in better processors instead of better cameras.

Figure 2. Resolution comparison


Figure 3. Orbo super resolution on 10th Gen Intel® Core™ processors. ORBO was built using the OpenVINO™ toolkit
Learn More
ORBO was built using the OpenVINO toolkit on 10th Gen Intel Core processors. For more information about Orbo's Super Enhance SDK, go to Orbo Homepage. To learn more about the OpenVINO toolkit, go to our OpenVINO™ toolkit page.