MeshCentral is an open source web based remote computer management web site. We release new versions many times a week and this week we added a bunch of more interesting features & improvements:
New MeshCentral installer for Windows. MeshCentral2 is pretty amazing in that you can install and run a new server easily and within minutes on both Windows and Linux. However, for Windows users we just made the process of getting your own MeshCentral2 server up and running even simpler with the all new MeshCentral2 installer for Windows. This installer will automatically detect, download and install NodeJS if needed along with installing the very latest version of MeshCentral. It can also be used for limited configuration of the server to get you started and to perform server updates. The new installer is fast, interactive and super simple. Anyone can launch a remote management service in minutes.
Wide screen toggle. You can now toggle the web page to use the full width of your browser window. This is really useful as increasingly there are really wide monitors. As the number of computers you manage increases, being able to use the entire browser window is a big plus. All of the MeshCentral2 screens has been modified to support the new mode toggle. Since this is a new feature, the toggle button will be somewhat hidden for now.
Server name and port aliasing. In some cases, you need to install the server in such a way that the internal private ports are not the same as the external ports. This is important where you are co-locating many services on a single server behind a firewall or have odd port mappings you have to deal with. When using port aliasing, the server will bind to ports on the local computer but assume that externally, the server is accessible on a different set of ports, so when getting a URL from the server, the external alias port is used. The server can also alias the name of the Intel® AMT MPS, making it possible to get HTTPS and CIRA connections on the same port using two different IP addresses.
In addition to these features, MeshCentral2 and the latest MeshAgent have gotten a lot more bug fixes and upgrades. A updated MeshCentral2 User's Guide 0.1.5 was put online reflecting the latest changes and updates.
Enjoy!
Ylian
Blog: http://meshcentral2.blogspot.com
MeshCentral2: http://www.meshcommander.com/meshcentral2
The all new Windows installer for MeshCentral allow you to quickly get it up and running.
NodeJS is automatically installed if needed, just a few steps and the server is setup.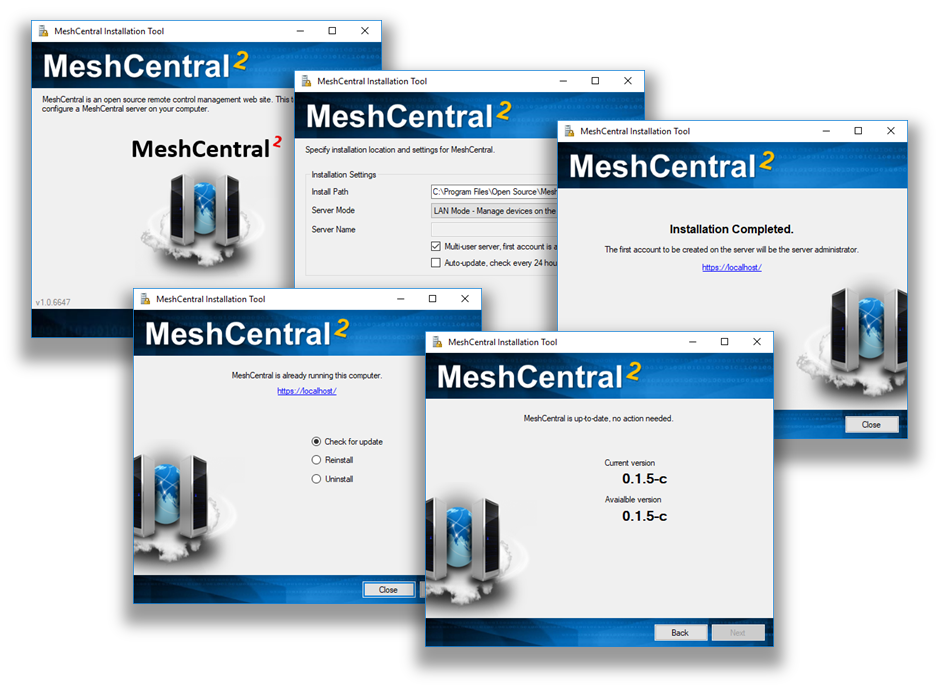 MeshCentral2's latest web page are not only all real time, you can
now toggle to use the full width of the browser window.
(During testing, the button is not highly visible)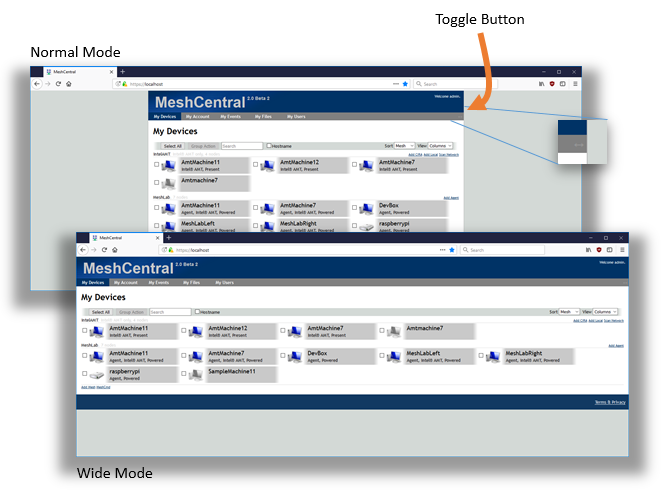 MeshCentral2 now supports MPS server aliasing and port aliasing.
You can setup MeshCentral2 with different internal and external ports.