If you want to create breathtaking 3D scenes quickly and hassle-free, look no further than Cinema 4D*. It has been used to create memorable sequences in Hollywood blockbusters, eye-catching online videos, and photorealistic magazine adverts.
Cinema 4D Release 21 from Maxon includes Intel® Embree 3.2.2 and Intel® Open Image Denoise from the the Intel® oneAPI Rendering Toolkit to bring a number of improvements in modeling, rendering and materials. Intel engineers have been working with Maxon's developers to optimize Cinema 4D R21 to take advantage of the latest Intel CPUs.
"Scene rendering is processor intensive, because it is based on ray tracing, which simulates the light paths taken by photons in reverse," says Karsten Jancke, Maxon director of engineering. "Rays are cast through the virtual camera into the 3D scene, where they intersect with the objects placed there by the artists. If an object is hit, its material properties such as texture, color, translucency and reflectivity are taken into account. Rays may be reflected or refracted further from this first hit toward other objects, or directly toward light to compute shadows. This process is repeated many times for each pixel in the rendered image. One important ingredient to ray trace many rays efficiently is the use of a raytracing acceleration data structure. This is effectively a database that allows you to quickly query intersections between rays and scene objects. The construction process for this data structure is very time intensive as well."
Improving Performance
To accelerate the rendering of photorealistic scenes in Cinema 4D, Maxon is using the Intel® oneAPI Rendering Toolkit. "We use the Intel oneAPI Rendering Framework to efficiently construct ray tracing acceleration data structures, and to trace many rays against scene objects, using the Intel® Streaming SIMD Extensions (Intel® SSE) and Intel® Advanced Vector Extensions (Intel® AVX) optimizations available for the user's CPU," says Jancke. "The Intel oneAPI Rendering Framework is not just very fast and memory-efficient at what it does, it is also very versatile, thanks to the well-designed architecture. It's a construction kit that we can tailor to our diverse needs. Even our GPU renderer profits from the Intel oneAPI Rendering Framework's high-quality acceleration data structures."
"This allows us to use the Intel oneAPI Rendering Framework, not just for classical ray tracing, but also for collision detection," he adds. "The recently added Voronoi Fracture features, certain texture painting speed improvements, and some selection tools were realized with the help of the Intel oneAPI Rendering Framework, making some use cases orders of magnitude faster for large scenes."
"It's been great to work with Intel to make Cinema 4D perform even better," he concludes.
Real World Workloads
We invited four digital artists to try Cinema 4D, together with a workstation based on the Intel® Xeon® W-3175x processor. They shared their work with us, and told us how the combination of Cinema 4D and the Intel Xeon W-3175x processor has transformed their workflow. In this article, we'll share their stories, and give you a chance to download their files so you can experiment with their 3D scenes.
Our creators used Cinema 4D and a workstation based on the Intel Xeon W-3175x processor to create a variety of 3D scenes
If you like this, sign up for more via Creativity Boost
Modeling Wooden Toys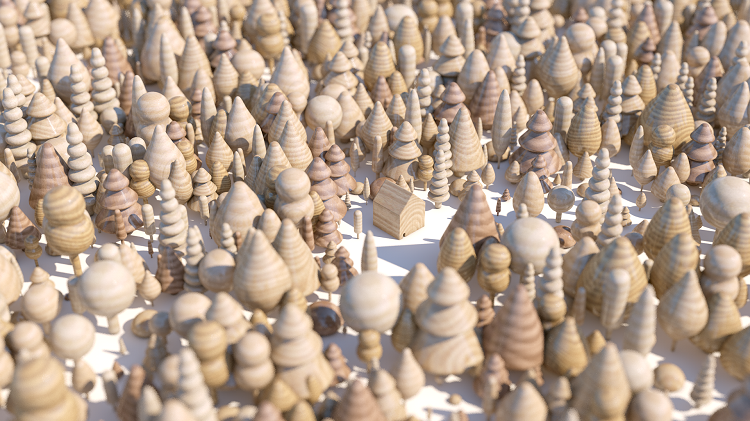 David Brodeur is an animator who creates 3D models to promote and demonstrate products such as shoes and electronics.
When David received the new workstation, he set to work creating a toy forest scene by cloning thousands of wooden trees using the new multi-instance feature in Cinema 4D Release 20. Without this feature, Brodeur's scene would have had 380,000,000 polygons that would, Brodeur says, "without a doubt have crashed any computer." The trees were modeled using the new Volume Builder, which enables basic shapes to be combined into complex models. "This allowed me to quickly and procedurally model many different tree designs," he says. "Using a different machine, I would most likely need to make the Volume Builder object editable to stop the machine getting bogged down. Because of the responsiveness of the screen updates on this new workstation, I was able to keep everything procedural."
The speed of the workstation is crucially important to Brodeur because the faster he can work, the more projects he can take on and complete. "As I worked on the new machine from Intel it was clearly obvious how fast the CPU was. My previous workstation (based on an Intel® Core™ i7 5960x processor) is a very powerful machine. However, my frames were taking 35 minutes to render on it. I took the same scene file and rendered it on the workstation based on the Intel Xeon W-3175x processor in 8 minutes1 (see table 1). This is a game changer if you are a professional 3D artist. The increased speed not only shortens the amount of time it takes me to create, but also gives me the flexibility to create more advanced scenes and materials that I would previously avoid because of long preview and render times."
Table 1: The workstation based on the Intel® Xeon® W-3175x processor dramatically cut David Brodeur's rendering time1
| Processor | Time taken to render scene |
| --- | --- |
| Intel® Core™ i7 5960x processor | 35 minutes |
| Intel® Xeon® W-3175x processor | 8 minutes |
Download Wood Forest Workload (78.8 MB, ZIP)
Designing a New Video Game Character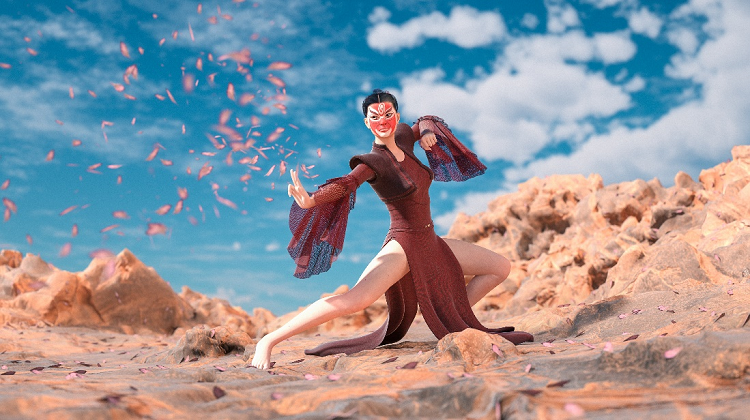 Together with Kevin Maistros and the team at Dotson Film Company, Jeff Dotson works on product launch campaigns for tech and entertainment companies. "3D is an integral part of our pre-visualization, animation, and post-production pipelines," he says. "With the ability to import Computer Aided Design (CAD) files in R20 we are able to improve the efficiency of our process for clients that allow us to use their pre-existing CAD files, in an effort to represent the products in a one-to-one manner."
Dotson and Maistros put Cinema 4D and the new workstation to work creating a scene set in the Far East past, with a fictionalized character presented as concept art for a fighting game. Dotson took care of the environment and Maistros created the character.
"Even the smallest adjustments to a scene, especially with, for example, a camera, demand real-time responsiveness to fully immerse artists in the details they're tuning," says Dotson. "The workstation based on the Intel Xeon W-3175x processor is completely smooth and interactive, working in the Cinema 4D viewport. Likewise, Physical Renderer allows for swift iteration with an interactive progressive render region. The more powerful CPU improved the performance of the render engine, allowing me to see the results of my changes almost instantly. I was previously using a mobile workstation, and using the new processor was like upgrading to a sports car from only ever having ridden a bicycle."
Download Warrior Workload (230.47 MB, ZIP)
Modeling the Canals of Venice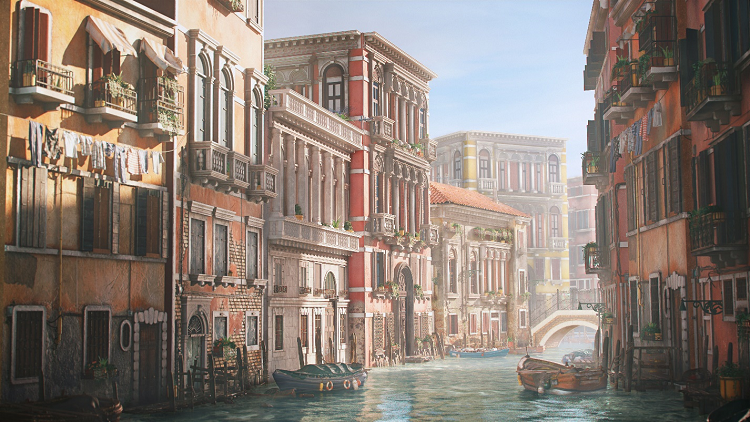 Aaron Covrett specializes in asset creation and look development, where 3D modeling plays an important role. He typically creates highly detailed static meshes that populate much larger scale environments. He previously created Kingston*, an urban scene focused on a New York subway station. With the new workstation, he modeled the canals of Venice. "Coming off my last personal project, Kingston, the idea of tackling another urban environment felt enticing," he says. "Adding some Venetian flavor, the exotic architecture, color palettes, and water elements felt like a natural progression and exciting challenge."
"This is an incredibly time-intensive process, so speed is a major factor," Covrett says. "Having more immediate feedback allows me to make decisions faster; to iterate, refine, and polish. Not long ago, I'd be waiting 10 minutes before seeing a change implemented."
"With the new machine, I noticed significantly smoother experiences when working inside of Cinema 4D and various third-party tools," he says. "The new Volume Database modeling tools introduced in R20 feel snappy and responsive. And of course, rendering with a CPU-based engine such as the native Physical Renderer shows drastic speed improvements!"
Asked about new possibilities that the workstation offers, Covrett says: "I'm particularly excited about tackling heavier simulation tasks. Tools like Houdini* and RealFlow* take advantage of multithreading, so the CPU's impressive thread count [28 cores, 56 threads] should come in handy."
Using Cinebench* Release 20, a benchmarking tool from Maxon that uses a real 3D workload, Covrett has measured his workstation's performance at 12,7882. The Cinebench score reflects the performance of the computer as tested by the benchmark, where higher is better. The benchmark measures processor performance, but not the Graphics Processing Unit (GPU). Covrett's score indicates an "extreme high-performance workstation," in the words of Maxon's director of engineering, Karsten Jancke. Covrett's previous machine scored 2,2242 (based on an Intel Core i7-6700k processor and two NVIDIA GeForce* GTX 1080 Ti graphics cards). "From day one, I was very impressed with the performance gain," says Covrett.
Download Venice Workload (722 MB, ZIP)
Shining a Light on the Kitchen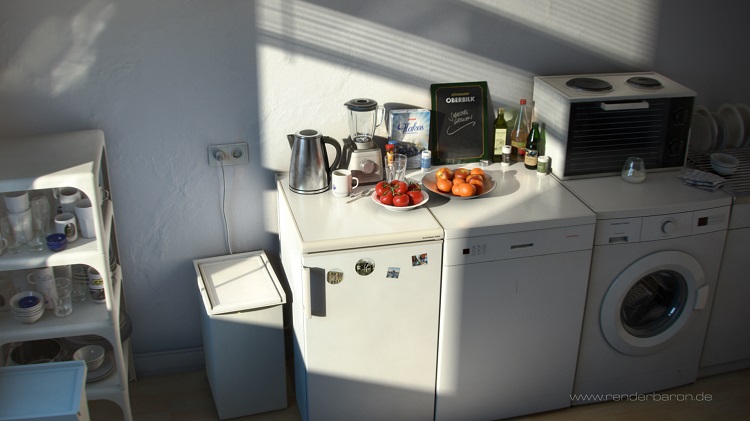 Marc Potocnik has a studio called renderbaron. Its main business is high-quality 3D visualizations and visual effects to explain complex scientific or technical content, and animations and stills for car showrooms, trade fairs, and press conferences. His customers include a leading broadcaster in Germany and two major car manufacturers.
With the new workstation he created Apollinarisstr, an everyday kitchen scene in spring. The kitchen is worn and flooded with morning light. "The main focus was on the process of procedural shading, especially of fruits and vegetables, but also of metals, plastics and ceramics," Potocnik says. "I illuminated the scene with local illumination, so all the light is subject to direct control."
His previous workstation was based on the Intel Xeon processor E5-2699 v4, with 44 cores running at 2.2 GHz3. "The Cinebench R20 value was about 12,000 CPU points, so it is really impressive that the new workstation with 28 cores reaches over 13,000 CPU points3. The faster, the better!"
"The maximum turbo frequency of one processor core of 3.8 GHz is of course also advantageous for those processes that are only performed on one core," he adds. "The post-production of the animation in Adobe After Effects* especially benefited from this."
His scene has great attention to detail. "Multi-instances allow you to create tiny hairs on tomato twigs and dust fibers on surfaces that are rarely used, without having to put a lot of strain on the system," Potocnik says.
Reliability was a theme that several creators brought up when we interviewed them. "In my studio, renderbaron, it is not uncommon that rendering a complex animation project takes several days, even with a dozen or so workstations," says Potocnik. "It's absolutely reassuring to be able to rely on Intel Xeon CPUs, even in 24/7 operation."
Mobility is also becoming increasingly important to digital artists, enabling them to be productive wherever their work takes them and whenever they feel inspired. Potocnik tested a mobile workstation based on the Intel Core i9-8950HK processor with six cores running at 2.9 GHz. "I could hardly believe this handy laptop was faster than my workstation, which has served me for many years," says Potocnik. "This impressive performance makes such a mobile workstation the ideal companion for working on the road or in the home office—with the performance of a full-fledged workstation. And back in the studio, the mobile workstation fits seamlessly into the Maxon Team Render process as a render client."
By downloading this Cinema 4D scene (renderbaron_apollinaristr.c4d with associated textures), you agree to the following terms of use: The scene is © by Marc Potocnik, renderbaron, www.renderbaron.de. Download and use of this scene is only for benchmarking and personal learning. Commercial use, sale, or redistribution of the scene or its parts or assets is strictly prohibited.
Watch the full version of Apollinarisstr.
Download Apollinarisstr Workload (334 MB, ZIP)
Get it Now
Cinema 4D R21 has just been released and is powered by Intel oneAPI Rendering Toolkit. Download the demo version of Cinema 4D Release 21
Downloads
Download Apollinarisstr Workload (334 MB, ZIP)
Download Warrior Workload (230.47 MB, ZIP)
Download Wood Forest Workload (78.8 MB, ZIP)
Download Venice Workload (722 MB, ZIP)
Footnotes
Unleash your creativity by discovering new tools, software and techniques: Sign up for the Creativity Boost Newsletter.
Software and workloads used in performance tests may have been optimized for performance only on Intel microprocessors.
Performance tests, such as SYSmark* and MobileMark*, are measured using specific computer systems, components, software, operations and functions. Any change to any of those factors may cause the results to vary. You should consult other information and performance tests to assist you in fully evaluating your contemplated purchases, including the performance of that product when combined with other products. For more complete information visit here the Performance Benchmark Disclosure.
1. Configurations: Baseline: Intel Core i7 5960x processor, 4x 980ti GPUs, with 2TB SSDs. New: Intel Xeon W-3175x, NVIDIA GeForce* RTX 2080TI 11GB, 1TB SSD. Both platforms running Cinema 4D Release 20. Tested April 2019 by David Brodeur.
2. Configurations: NEW: Intel Xeon W-3175x processor, NVIDIA GeForce* RTX 2080TI 11GB, 1TB SSD. OLD: Intel Core i7-6700k processor and two Nvidia GeForce* GTX 1080 Ti graphics cards. Both platforms ran Cinebench R20. Tested May 2019 by Aaron Covrett.
3. Configurations: NEW: Intel Xeon W-3175x, NVIDIA GeForce* RTX 2080TI 11GB, 1TB SSD. OLD: Intel Xeon processor E5-2699 v4. Both platforms ran Cinebench R20. Tested June 2019 by Marc Potocnik
Performance results are based on testing as of the date set forth in the configurations and may not reflect all publicly available security updates. See configuration disclosure for details. No product or component can be absolutely secure.