Flexible, feature-rich solution turns smart video into actionable insight
Executive Summary
Video data is a key part of surveillance as well as many other types of IoT implementations. But video data can be complex and costly to gather, transmit, and analyze. AllGoVision* provides an innovative analytics solution, purpose-built for video data. Powered by Intel® architecture, the solution has been deployed in more than 100 installations in 35 countries. It rapidly analyzes video from surveillance cameras for designated parameters, including specified factors, behavior patterns, motion tracking of people and objects, and environmental monitoring.
Challenges
Streaming video offers rich data for connected cities, transportation, building management, and a wide range of industries. But mining value from this data requires an analytics solution that can quickly parse and extract relevant insight from ever-increasing data sets. Many analytics solutions offer deep analysis at the back end, but the results frequently do not support nearly instantaneous action and automated decision-making at the edge. These solutions can also be difficult to install, costly to purchase and maintain, and run only on specific cameras and infrastructure components.
Solution
AllGoVision offers an advanced deep learning–based video analytics solution powered by Intel® architecture that integrates with existing infrastructure to provide automatic near-real-time alerts and insight for actionable business intelligence.
The enterprise-grade solution seamlessly integrates with existing open platform surveillance systems. It is designed to combine situational awareness with the business intelligence for competitive decision-making. The near-real-time results allow for proactive, preventive operations management. Security is automated for enhanced safety and efficient operations. Based on artificial intelligence and machine learning and scalable Intel® processors, the solution is future-proofed to protect investments.


Figure 1. AllGoVision* smart video solutions powered by Intel® architecture deliver advanced analytics across a broad spectrum of industries

A Comprehensive Analytics Solution That Is Easy to Deploy
Open platform
Choice of video management software (VMS) and camera integration
Plug and play
Works with existing surveillance setup and infrastructure
Compatible with existing security systems
Easy to install and use
Enterprise ready
Powered by high-performance Intel® architecture
Flexible
Run analytics at the edge, server, and/or cloud
Robust
Superior robustness for environmental conditions (e.g., wind, rain, snow)
Optimized through deep learning for field challenges
Accurate
Exceptional object occlusion handling
Object tracking, even in crowds
Accurate results amidst gradual or sudden illumination changes
Feature rich
More than 40 basic and advanced features to support a range of use cases
Customizable
Easy to enhance to meet specific requirements
Cost-effective
Reduce hardware costs with more functionality per server
Ease of use
Easy to install and configure
Intuitive graphical user interface (GUI)
Windows*, tab-based, point-and-select interface
Extensive graphical icons and options (pull-down menus, buttons, check boxes, radio buttons)
Manageability
Integrated with open platform VMS, such as Milestone*, Genetec*, IndigoVision*, etc.
Support
Expert analytics support team from AllGoVision
One solution, multiple applications
Works across industries and use cases
Sample Use Cases
Next-generation video analytics from AllGoVision and Intel support a wide range of business and industry use cases and applications, including intelligent traffic surveillance, crowd management, perimeter protection, suspicious incidences detection, retail intelligence, facial recognition, and multi-camera tracking (i.e., smart subject search).


Figure 2. Use cases for edge analytics include surveillance, operations management, and business intelligence


Figure 3. Analytics from AllGoVision incorporate extensive functionality based on artificial intelligence and machine learning
Here are just a few of the ways that smart cities, buildings, and enterprises are using AllGoVision analytics to optimize operations, increase safety, maximize efficiency, and reduce costs.
City surveillance
Unauthorized crossing of railway lines
Boundary surveillance of critical infrastructure
Suspicious object and behaviour detection
Unauthorized crowding/overcrowding
Blacklisted person/suspect identification
See more city surveillance features
Traffic and parking management
Effective traffic control at intersections
Detection of illegal traffic behaviour
Toll evasion detection at toll booths
Detection of unauthorized parking
Available parking slot detection
License plate recognition
See more traffic surveillance features
Building surveillance
Monitoring entry at restricted spaces
Access control/lobby management
Abnormal behaviour and unidentified objects
Early warning through video smoke detection
Monitoring monuments for vandalism
See more building surveillance features
Business intelligence
Footfall statistics and queue monitoring
Reduce shrinkage with pilferage detection
Counting beverages served over the counter
Viewership and engagement analysis
Profiling by demographic data, such as age and gender
See more business intelligence features
A Close Look at Facial Recognition
One of the leading areas of IoT analytics based on video data is facial recognition. AllGoVision captures faces and stores them in customer databases. People are detected through closed-circuit television (CCTV) cameras and matched against the database. Alarms and alerts are automatically generated for potential miscreants. The function is based on advanced technology using 3D structures to extract the feature points from the face, create a feature vector containing the most dominant features on the face, and store them as models.
The facial analytics feature works with generic IP cameras and PCs in both indoor and outdoor environments. It can identify individuals even when moving and despite camouflage efforts. Time to results is as little as one second, and up to tens of thousands of registered faces can be analyzed.
Face detection
Near-real-time video from surveillance cameras, CCTV, or archived video footage is analyzed in individual frames to locate and capture a human face as a sample.
Feature extraction
The unique facial characteristics of the captured sample are then assessed and a unique data set is extracted from the 3D structure of the detected face.
Facial recognition
The system alerts if a face is recognized or not. For a recognized face, the system flashes additional registered information and an image of that individual.
Face search
The extracted data set for the sample is matched with the models available in the database of registered faces.


How It Works in Brief
AllGoVision's advanced algorithms are integrated with VMS or IP cameras. The analytics server powered by a high-performance Intel® processor receives the video stream from VMS or directly from the IP camera. Analytics operations are then performed—with alarms and alerts generated automatically as needed. The alarms and alerts can be viewed either via the integrated VMS clients or in the AllGoVision viewer client. With the AllGoVision and Intel solution, analytics can be conducted at the edge, server, or on a distributed architecture.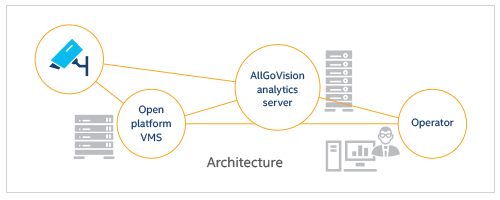 Server analytics
For server analytics, the solution can reside in the VMS or on a separate machine. Open network video interface forum (ONVIF) streaming is supported, along with leading VMS. Alarms and alerts are sent to the VMS viewer (smart client) or to AllGoVision's Alarm Center. The analytics run as a Windows* service, supporting up to 100 channels per server, as well as failover.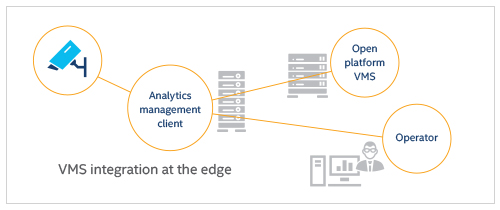 Edge and cloud analytics
Analytics at the edge and cloud are available on IP cameras. Alarms and alerts are sent to the VMS viewer (smart client). The analytics run as a Windows service, supporting up to 200 channels per server to save on hardware costs. Features such as detection of intrusion or suspicious incidents and counting are supported simultaneously.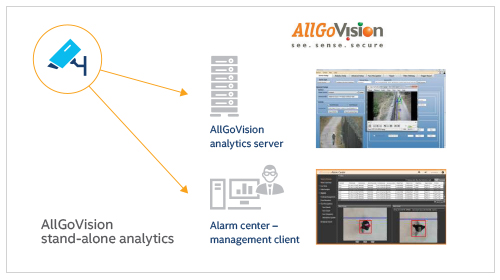 Stand-alone analytics
For stand-alone analytics, AllGoVision takes the video feed directly from the camera. Alarms and alerts are sent to AllGoVision's Alarm Center. These analytics are especially useful for non-security or business intelligence applications with no VMS.
Distributed architecture
AllGoVision can be run locally (i.e., at the edge or machine) or on the cloud, with the ability to send alarms and alerts via WAN. Alarms and alerts can be hosted on the cloud.
Software interface
The easy-to-use, intuitive GUI comes with an alarm management and reporting client—the AllGoVision Alarm Center. It offers extensive options for alarm preview, search, reporting, and analysis.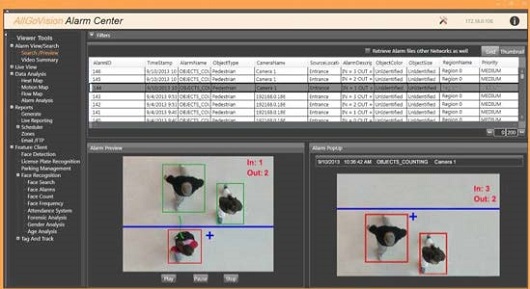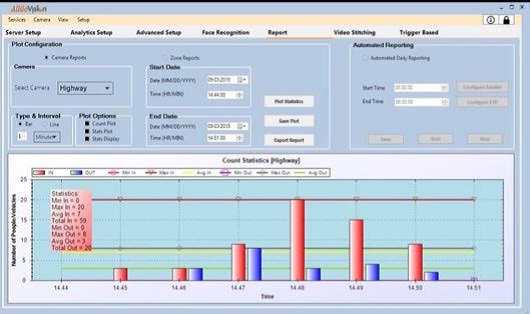 Easy-to-use graphical interface provides analytics and reportage
The Foundation for IOT
The AllGoVision solution is just one example of how Intel works closely with the IoT ecosystem to help enable smart Internet of Things (IoT) solutions based on standardized, scalable, reliable Intel® architecture and software. These solutions range from sensors and gateways to server and cloud technologies to data analytics algorithms and applications. Intel provides essential end-toend capabilities—performance, manageability, connectivity, analytics, and advanced security—to help accelerate innovation and increase revenue for enterprises, service providers, and industry
Conclusion
AllGoVision brings IoT and analytics expertise to unlock valuable insight from video data. The solution powered by robust Intel architecture can be used by a wide spectrum of industries and vertical segments to improve decision-making, increase automation, and tap the benefits of connected IoT solutions. Video data is critical for surveillance and monitoring—with AllGoVision and Intel this vital information is available in near-real time.
About AllGoVision
AllGoVision Technologies Pvt. Ltd., is a provider of video analytics and manufactures AllGoVision, an advanced video analytics solution. AllGoVision is offers more than 50 video analytics features used in traffic, building, and city surveillance, and business intelligence. Its global technology partners include Milestone, Genetec, Honeywell EBI*, HUS*, DVM*, Wavestore*, Axis*, Tyco*, Samsung*, Siemens*, etc. AllGoVision received a 2015 Most Innovative and High Potential Product award from NASSCOM, and was recognized as one of the 20 most promising video surveillance solution providers of 2017 by CIOReview.
Learn More
For more information about AllGoVision, please visit allgovision.com or contact us at allgovision.com/contact-us.php. For more information about Intel® IoT Technology and the Intel IoT Solutions Alliance, please visit intel.com/iot.