Overview
Run video processing and AI inference on edge computing devices with this smart vision platform from Aotu*. Integrate with Intel® Edge Insights for Industrial for various vision applications.
This solution is provided by Aotu and can be requested at https://aotu.ai/en/download/.
Programming Language: Python*, C/C++*, SQL*
Available Software:

BrainFrame® Server and Client Software
VisionCapsules® Library
---
Target System Requirements
Intel® Core™ i7 processor
Linux* is supported in general; Ubuntu* 20.04 is recommended
At least 6 GB RAM
At least 250 GB hard drive
---
How It Works
BrainFrame® has been deployed in multiple verticals such as industrial IoT, enterprise and retail for video analytics and real-time smart vision IoT applications. BrainFrame® has the following features:
Provides optimized real-time video processing and AI inference on edge computing devices. (Watch a YouTube* video.)
Easy to use and fast to deploy: No code AI to deploy video AI solutions. Polished user interface with built-in video and AI overlay, smart lines and zones, alarm and alert interface, VisionCapsules® algorithm load/unload/configuration, identity interface, database and analytics dashboard, etc.
Fully customizable by developers and users: REST API is 100% provided for you to build your own graphics user interface. You can use a selection of prebuilt algorithms or your own algorithms.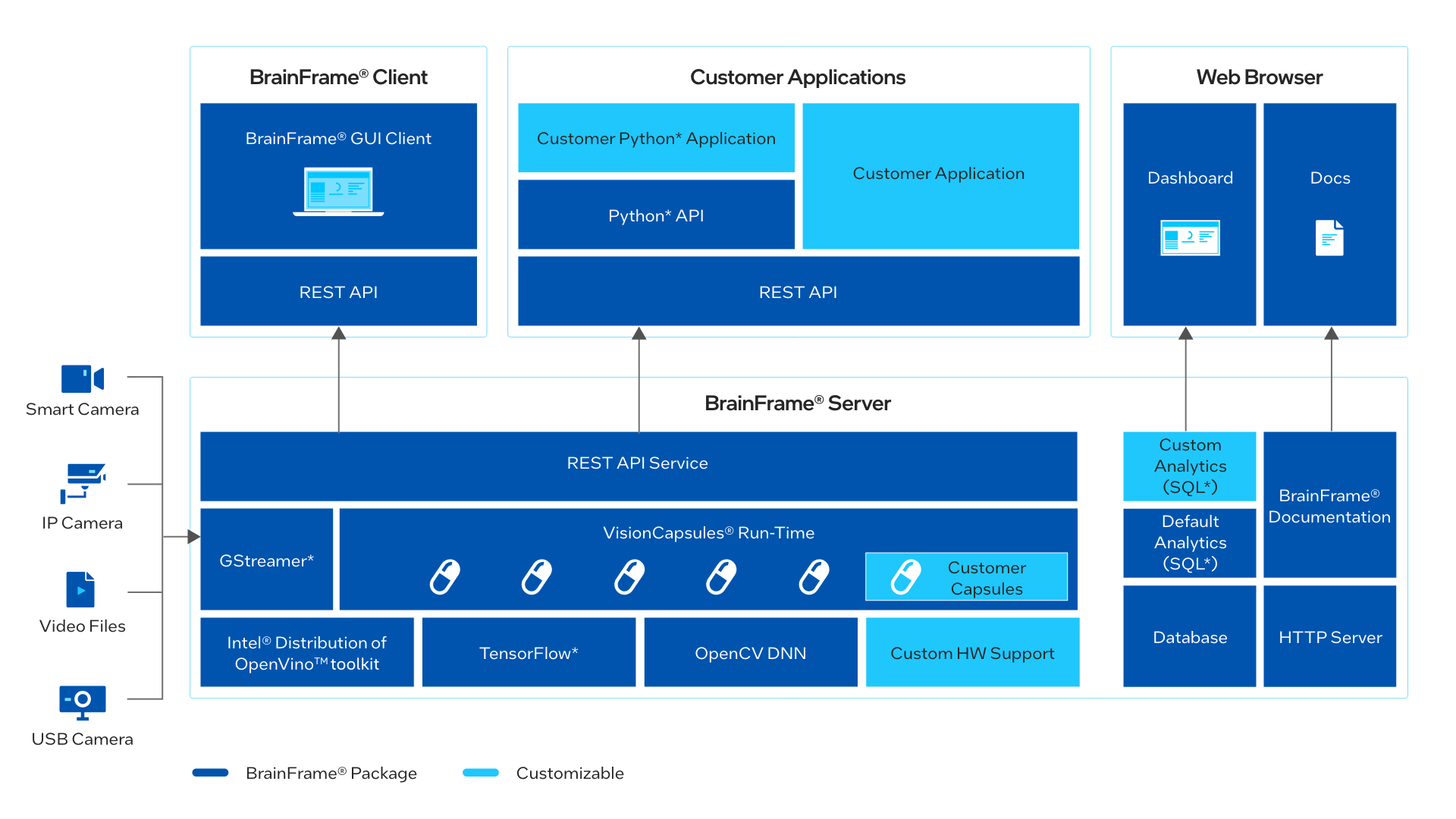 Modules
BrainFrame® Server or Client can be installed on the same edge computer or different computers with TCP/IP connection.
BrainFrame® Server and Client Software
BrainFrame® Server is deployed on Linux through Docker*. It includes all video processing, AI inference, APIs services, database, and dashboard services, etc.
BrainFrame® Client is used to access BrainFrame® Server. Linux* and Windows* are supported. The BrainFrame® dashboard can be accessed directly through the browser.
VisionCapsules® Library
Computer vision algorithms and deep learning models are encapsulated in the OpenVisionCapsules® format, which is designed to support downloadable and interoperable AI. When you download VisionCapsules®, the system will load the algorithm and start inference in seconds. The algorithm pipeline and algorithm fusion will be built automatically.
BrainFrame® has built-in Intel® Distribution of OpenVINO™ toolkit optimization support. Check out the VisionCapsules® marked with "OpenVINO™", "iGPU", or "HDDL" for best performance on edge computers with Intel processors: VisionCapsules® download.
---
Get Started
This solution is provided by Aotu and can be requested at https://aotu.ai/en/download/.
---
Run the Solution
Add a video stream.
Select and download VisionCapsules®.
Install a VisionCapsule®.
Add an Alarm.
Add a Zone.
Watch actionable insights on the BrainFrame® Client, and check out your data immediately on a dashboard through your browser.
If you decide an integration with your own application is needed or a customized algorithm is needed, check out the Tutorials for using REST APIs and building your own VisionCapsules®.
---
Summary and Next Steps
You successfully downloaded BrainFrame® and should be able to run BrainFrame® from end-to-end, watch Video/AI overlays, set up smart lines and zones, trigger alarms, save analytic results in database, analyze structured data from video and create graphs and view on dashboards.
---
Learn More
To continue learning, see the following guides and software resources:
---
Release Notes
BrainFrame® Release Notes.
---
Support Forum
Visit the support forum for developer support.