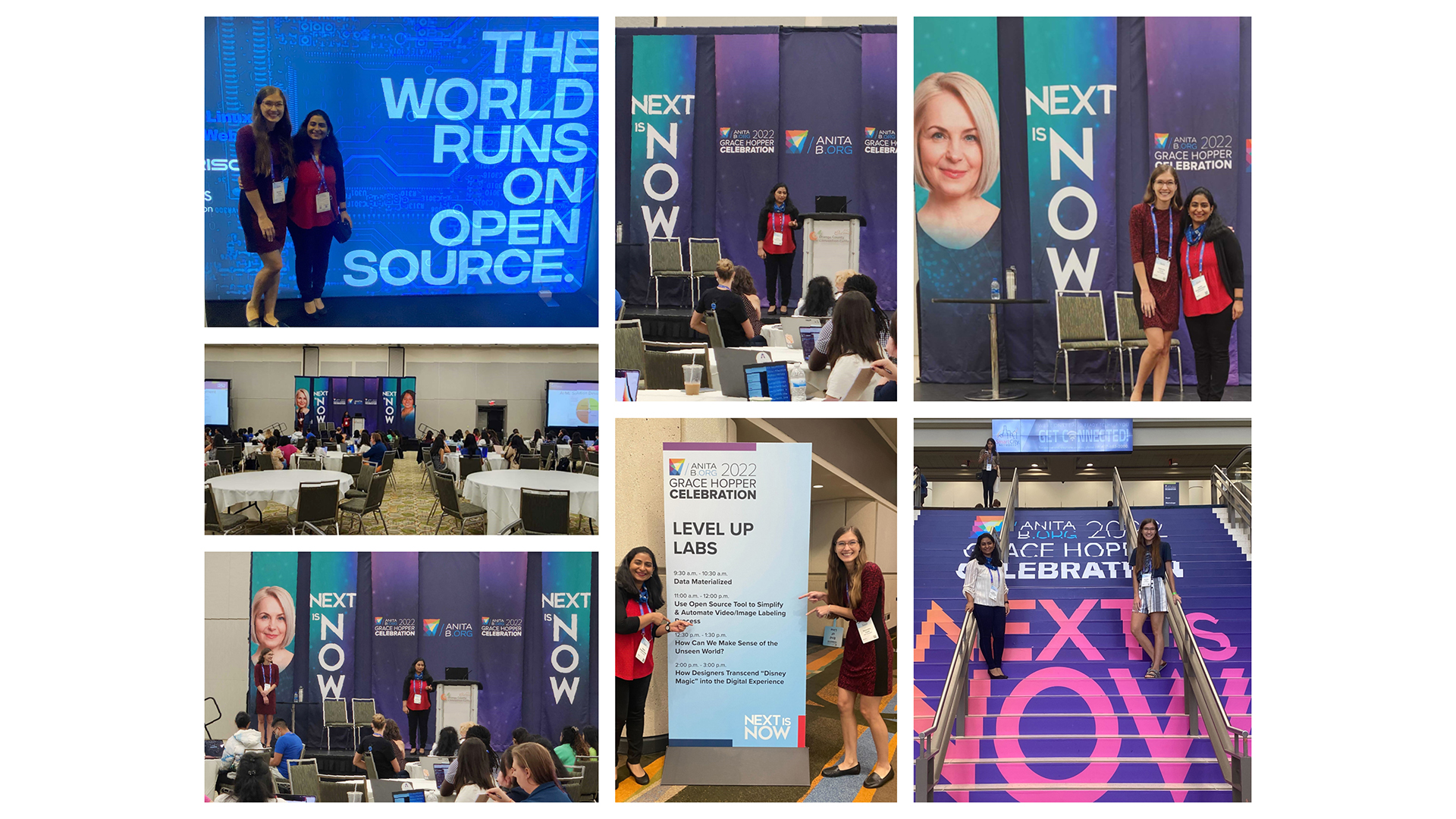 At the world's largest gathering of women and non-binary technologists, a celebration was truly in the air.
After two years of virtual-only events, the 2022 Grace Hopper Celebration (GHC) went hybrid, drawing participants to Orlando, Florida in September as well as online. Many were glad to be back in-person, in an environment where women from around the world learn, network, celebrate their achievements and support each other.
The pandemic only boosted the conference's popularity – in 2020 37,000 attendees from over 155 countries participated – a 20% increase from the prior year's attendance and the largest attendance to date.
Representing Intel, we were especially excited that our Level Up workshop pitch was greenlit since GHC has an acceptance rate of about 15%. We were both encouraged and supported by the Intel Open Ecosystem team in promoting Intel's role and contribution to the global open source software engineering community.
It was a great experience for us to set up and run a Level Up Lab workshop. The hour-long session, titled "Use open source Tools to Simplify and Automate Video/Image Labelling Process," put us in front of a packed room of about 170 attendees.
This workshop covered how to perform data annotations using Computer Vision Annotation Tool (CVAT). CVAT was supported by the Intel OpenVINO™ team but now falls under the OpenCV umbrella. This Level Up Lab was part of the open source track which was a major focus area for the conference this year.
For the Level Up Lab, we created a Github repo to help attendees walk through the CVAT tool for person tracking data annotations. It also provided supporting documentation on annotation best practices and specifications for the demonstration use case. During the workshop, there were plenty of questions about future expansions for the Level Up Lab, additional resources, and how open source tools and technology like CVAT are used on a daily basis by software engineers at Intel.
It was exciting to see how enthusiastic the attendees were and how many connections were made during both the conference and Level Up Lab. This workshop gave attendees insights into how challenging computer vision annotations can be when experiencing occlusions, different lighting conditions, etc. All of this can have a significant impact on the time and accuracy of the resulting data annotations. It was also special experiencing the teamwork and collaboration attendees had with one another. Emphasis was to make the attendees realize how performing data annotations is a team-centric effort, and it was felt throughout the room as attendees all huddled together working to perform their data annotations.
The celebration also offers professional development through a variety of activities such as the Open Source Day Hackathon, numerous networking opportunities, and hands-on presentations.
Because a diverse community is effective and innovative, it's a painful truth that diversity in the open source community is even worse than in the broader tech community. In fact, the Linux Foundation found that less than 7% of women or non-binary people contribute to open source, so this was a large initiative of the conference to better support and address. The open source track chairs said how they hoped attendees would leave GHC knowing more of what open source is all about and how to get more involved. Representing Intel, it was an exciting opportunity to align with that goal and demonstrate the ways in which Intel participates in and supports the greater open source community and diversity initiatives.
As aptly described by Intel CTO Greg Lavender - the future is wide open, and Intel is playing a major role in developing this open ecosystem.
About the authors
Neethu Elizabeth Simon
Internet of Things/Machine Learning Senior Software Engineer, Intel Corporation
Lifelong learner and enthusiastic developer excited in building microservices for computer vision based AI/ML retail and healthcare solutions, passionate about sharing learnings with others, 2020 SWE Distinguished New Engineer Awardee, STEM and diversity inclusion champion.
Samantha Coyle
Internet of Things/Machine Learning Software Engineer, Intel Corporation
Go enthusiast and speaker with love for all things open source. Currently developing Go microservices for computer vision-based applications for retail and healthcare solutions, and a Go textbook technical reviewer, CKAD certified, and passionate in enabling novice artificial intelligence developers and empowering early-career and diverse professionals.