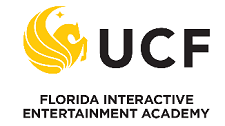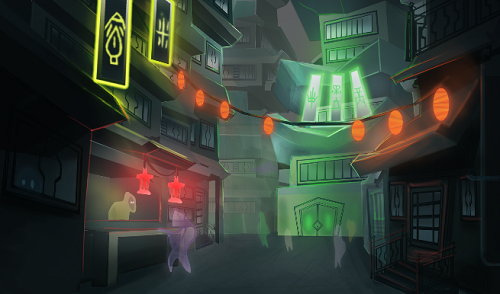 The Channeler
FIEA's decision to participate was an easy one. In their view, IUGS has turned into a great celebration and showcase of student games at GDC and they love competing with peer programs. "The Channeler" was a great game for them to pick because it has a mix of innovation, gameplay, and beautiful art. Also, because it uses eye-tracking (through a partnership with the Tobii Eye Tracker) as its main controller, they believe it will really stand out from the rest of the field.
The Team:
Summan Mirza – Project lead
Nihav Jain – Lead programmer
Derek Mattson – Lead designer
Alex Papanicolaou – Lead artist
Peter Napolitano – Technical designer
Raymond Ng – Technical designer/art manager
Claire Rice – Environment/UI artist
KC Brady – Environment artist/UX design
Matt Henson – Gameplay programmer
Steven Ignetti – Gameplay/AI programmer
Yu-Hsiang Lu – SDK programmer
Kishor Deshmukh – UI programmer
The Inspiration:
Summan Mirza says: "The original pitch started with the idea of innovating by creating gameplay that could not be replicated with traditional controllers. Eye-tracking, as a mechanic, had many fascinating possibilities that lent itself well to immersing a player in a world. After all, the vast majority of us already use our eyes heavily to play games! We had first looked into developing 'The Channeler' by installing eye-tracking into a VR headset, but found that modding one to use eye-tracking was too problematic and expensive at the time. Instead, we found the Tobii EyeX, a slim and affordable eye-tracking peripheral that did not carry the cumbersome and obtrusive nature of headset-style peripherals. From then on, we mass-prototyped in aspects such as narrative, combat, and puzzles, and surprisingly found the breadth of possibilities for eye-tracking-based gameplay vast and exciting, but sadly, beyond our scope. So, we focused on using eye-tracking for puzzle-based gameplay. The kooky City of Spirits in The Channeler formed the perfect wrapper for this. It allowed us to create some out-of-the-box puzzles that worked well in such a silly world, and the feeling of controlling the world with your eyes really gave players a sense of possessing an otherworldly power.
The Game:
"The Channeler" takes place in a kooky city of spirits, where the denizens are plagued by mysterious disappearances. Fortunately, you are a Channeler. Gifted with the "Third Eye," you possess a supernatural ability to affect the world around you with merely your sight. Explore the spooky night market and solve innovative puzzles to find the missing spirits! Innovation is what really sets The Channeler apart from other games; not many games out there use eye-tracking as a main mechanic. Whether it's trying to beat a seedy ghost in a shuffling shell game, tracing an ancient rune with your gaze, or confronting possessed statues that rush toward you with every blink—our game utilizes eye movement, blinking, and winking mechanics that provide only a sample of the vast possibilities for eye-tracking games.
Development and Hardware:
Summan Mirza says: "Game development brings up many challenges along the way, especially when troubleshooting hardware issues. However, using Intel hardware for 'The Channeler' was virtually effortless. We never had to worry about things like frame-rate issues, even though our game heavily used taxing graphical aspects such as overlapping transparencies with the ghosts. To put it simply, working with Intel hardware was certainly the smoothest part of the game development process."