Intel® Software Innovators Chris Skaggs and John McGlothlan Develop a Dynamic Scent System for Games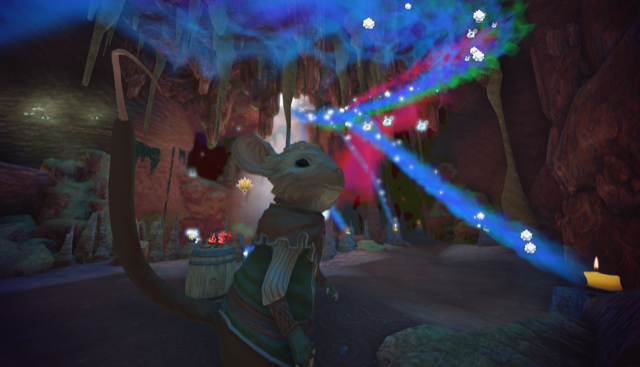 Developers of role-playing games (RPGs) often bring passion to their work. For Intel® Software Innovators Chris Skaggs, CTO/CCO at Soma Games, and John McGlothlan, Soma's lead developer, that passion does not derive from that fact that their flagship games are based on the Redwall series – Brian Jacques's 26 fantasy books that sold more than 35 million copies. Nor does it exist because Netflix* bought the rights to those books to create a soon-to-be-released feature film and TV series that will bring more attention to their games. For Skaggs and McGlothlan, that passion comes from their desire to produce RPGs that combine action and adventure with wholesome messages, something rarely seen in the world of games.
The Lost Legends of Redwall can be played on Xbox One*, PlayStation* 4, Steam* and other platforms
Skaggs and McGlothlan are active contributors to the Intel® Software Innovator Program, Intel's community for forward-thinking developers. Participants share thought leadership and technology expertise to inspire their developer peers by speaking and giving demos of their work at industry events. Now expanding to support graphics developers and creators, the Intel® Software Innovator Program is adding a new Xe Community track with an emphasis on applications and experiences demanding greater speed and performance even as workloads increase.

Both Skaggs and McGlothlan cite their involvement in the Intel® Software Innovator Program as a major help in developing breakthrough gaming technology. Their game, The Lost Legends of Redwall, which enable players to take on the role of mice, introduces the faculty of scent as a means of play. The ability to smell one's way towards one's goals, or to gain awareness of one's foes, took a great amount of development to achieve.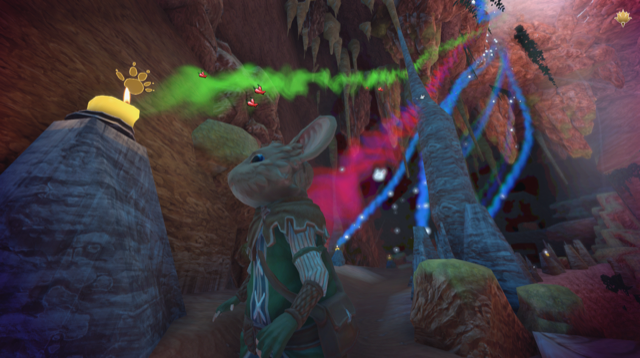 What Does Challenge Smell Like?
Depicting scent visually as a user experience makes it possible to play the games in a way that's similar to how an animal uses its sense of smell. But bringing that concept to life proved to be an enormous challenge.
To overcome that, Skaggs and McGlothlan first gained an in-depth understanding of the different kinds of smell that animals use. Next came how to transfer that knowledge to a game.

"For scent to seem life-like in an RPG, it must work according to the laws of physics related to wind direction and currents," said Skaggs.

That led them to devise a way within the game for scent to drift on the wind. Other features they developed include scent to remain on a particular object and for players to use scent marks to recognize that a specific character or animal has recently passed through a particular space.
The game categorizes scent sources by type (animal, organic, vegetable and mineral) and then into two subtype levels, each of which is color coded. That allows scent to be shown visually in the games.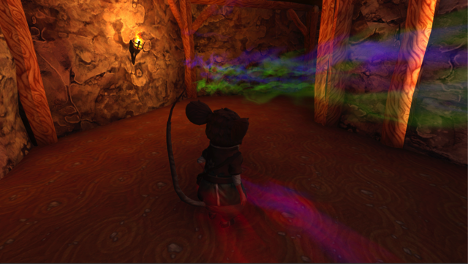 A Brilliantly Smelly Solution
Soma's dynamic scent system requires tens of thousands of particles with exceptionally long decay rates to simulate a steady scent stream that can travel downwind over long distances. A typical level includes 50 unique emitters, both mobile and stationary, and the presence of a scent must be immediately and reliably visible to the player.
This type of gameplay presents a serious performance challenge. Skaggs and McGlothlan solved it by pooling particles into smaller systems. The system then visually updates and renders at run-time only the information in the player's field of view.
Originally, they used the Megaflow plug-in in the Unity* game engine to define static and changing vector fields that effect in-game particles, but it put too great a strain on the CPU.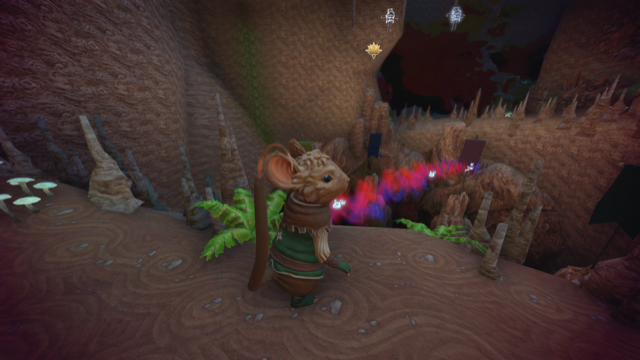 "To overcome this obstacle, we leverage a new feature in Unity called particle force fields," said Skaggs. "And that provides the needed performance headroom."
And on the subject of performance McGlothlan said, "We also use the Intel® Graphics Performance Analyzer to locate where bottlenecks to performance occur. That enables us to optimize our games for Intel® silicon."
Skaggs and McGlothlan and their crew at Soma Games rely on other Unity technologies including MegaShapes, Cinemachine* and MegaFlow. Pilgway's 3D-Coat assists in character sculpting. Maya*, now owned and developed by Autodesk*, helps take care of animation. Other design products that help give the game its look and feel include Blender*, Articy, Ink, World Creator and Photoshop*.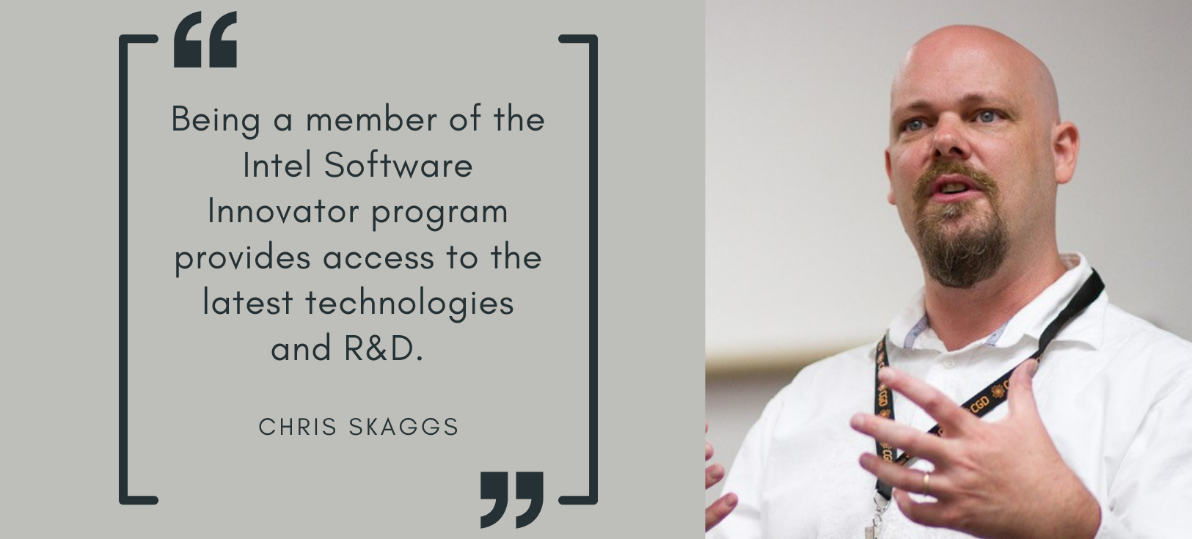 The Need for Community
Having a network of like-minded developers makes it easier to learn how to use different software to build games. And Skaggs and McGlothlan credit Intel's support on creative troubleshooting, programming and game design as instrumental in the success of Soma Games. They explain that the company started with just three people, and while they've grown, they've done so by making the most of what they have.
"I can't wait to get together with other graphics developers and creators in the Intel® Software Innovator Program," said Skaggs. "especially through the new Xe Community track."
McGlothlan also commented on how the Software Innovator Program puts them in touch with the latest research. "To use camera hand tracking, I needed to expand my understanding of complex data sets," said McGlothlan. "And through the Innovator program, I learned how to structure databases and quickly query the data.
This new community will help developers that are creating games, apps and experiences which run on Intel® Iris® Xe architecture, become better at their craft.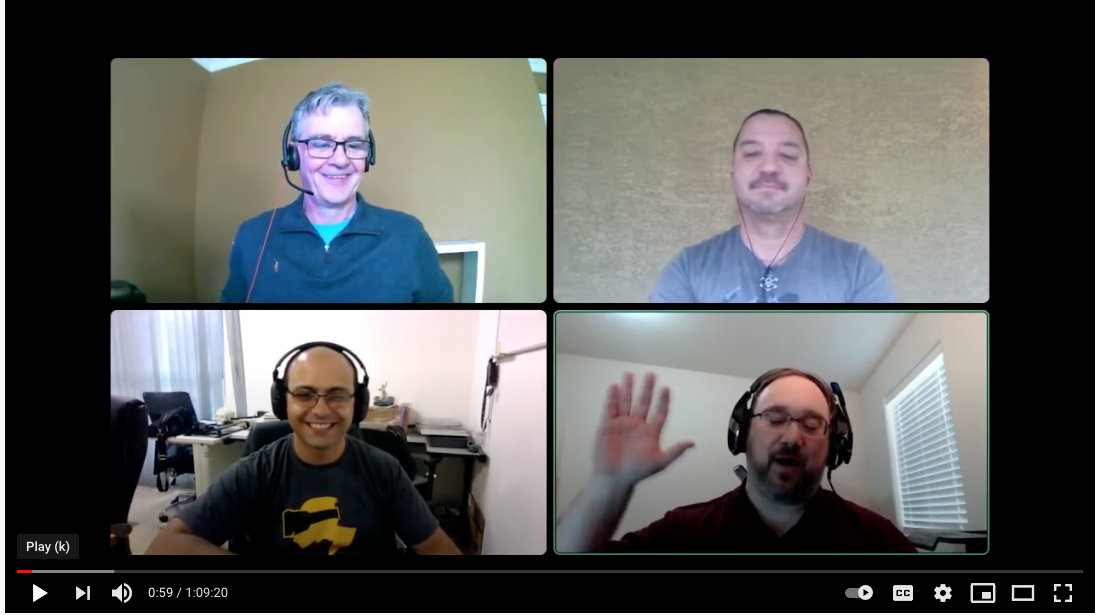 Elevate Your Graphics Skills
Ignite inspiration, share achievements, network with peers and get access to experts by becoming an Intel® Software Innovator. Game devs, media developers and other creators can apply to the new Xe Community track – opening a world of opportunity to craft amazing applications, games and experiences running on Xe architecture.
To start connecting and sharing your projects, join the global developer community on Intel® DevMesh.