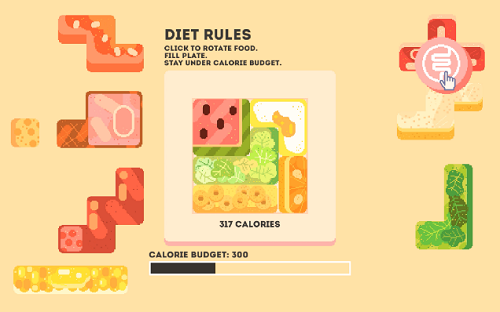 Consume Me
This game was an easy choice for the NYU Game Center. It's a thoughtful, fun, and aesthetically unique game that is personal, smart, and clearly an artist's passion project.
The Team:
Jenny Jiao Hsia – As this is a solo project, Jenny did all the design, visuals, coding, and audio.
The Inspiration:
Jenny says: "When I was in high school, I started dieting and exercising a lot. I created a long list of rules that I made myself follow, such as: no eating after 7 pm; drink at least a glass of water before each meal; perform 50 sit-ups if I go over my calorie budget. When I started making games, one of the first things I learned about game design is that many games are sets of constraints that result in a particular experience. That notion of a game has always stuck with me. I thought it was interesting how my dieting experience shared many similarities to this systematic structure of games. That's why I decided to make this personal game about my experience with dieting."
The Game:
"Consume Me" puts the player into the mind of the dieter. These prototypes explore a three-way dynamic between the player, the character, and the fact that this character is based on Jenny, the author. What does it mean to push and prod the character into certain eating behaviors when the player doesn't get full control of the character's thoughts and internal state? The player is put in an awkward position of performing as the character, but only in a limited sense. These prototypes embrace an intimate and confessional mood and present a goal-oriented relationship with food using simple, but distressing mechanics. Cramming Tetris-shaped pieces of food on a plate to hit a calorie target, putting a flopping avatar through a fat-burning workout, and showing the protagonist's distress as she tries on a crop top are mechanics which place the powerful feelings of self-consciousness and anxiety front and center, with a discomforting undercurrent of humor. Is it okay to "play" – or have fun – with someone else's pain? By giving you permission to poke fun at her suffering, the mechanics of Jenny's game attempt to bring humor and vulnerability to this serious and uncomfortable subject matter.
Development and Hardware:
The game was developed over the course of several semesters and included multiple builds using different hardware during Jenny's tenure as an undergraduate at the NYU Game Center. NYU is happy to be showing the game at the Intel University Games Showcase using Intel hardware.