The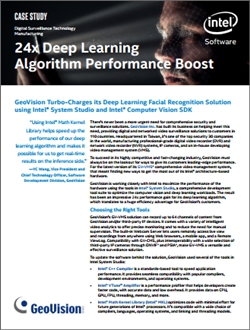 re's never been a more urgent need for comprehensive security and surveillance solutions. GeoVision Inc. has built its business on helping meet this need, providing digital and networked video surveillance solutions to customers in 110 countries. Headquartered in Taiwan, it's one of the top security 30 companies in the world, manufacturing professional-grade digital video recorder (DVR) and network video recorder (NVR) systems, IP cameras, and an in-house developing video management system (VMS).
To succeed in its highly competitive and fast-changing industry, GeoVision must always be on the lookout for ways to give its customers leading-edge performance. For the latest version of its GV-VMS* comprehensive video management system, that meant finding new ways to get the most out of its Intel® architecture-based hardware.
GeoVision is working closely with Intel to maximize the performance of the hardware using the tools in Intel® System Studio, a comprehensive development tool suite to optimize the computer vision and deep learning workloads. The result has been an impressive 24x performance gain for its deep learning algorithm, which translates to a huge effciency advantage for GeoVision's customers.
Learn all about it in our new case study.