New, Inventive Media Solutions Made Possible with Intel Media Software Tools
With Intel media software tools, video solutions providers can create inspiring, innovative products that capitalize on next gen capabilities like real-time 4K HEVC, virtual reality, simultaneous multi-camera streaming, high-dynamic range (HDR) content delivery, video security solutions with smart analytics, and more. Check these out. Envision using Intel's advanced media tools to transform your media, video, and broadcasting solutions for a competitive edge with high performance and efficiency, and room for higher profits, market growth, and more reach.
Half a million fans came to Rio de Janeiro to witness the Summer Olympics. At the same time, millions more people all over the world enjoyed the competition live on TV. Arranging a live TV broadcast to another continent is a daunting task.
Thomson Reuters used the NetUP Transcoder for delivering live broadcasts from Rio de Janeiro to its New York and London offices, optimized by Intel® Media SDK.
Get the whole story in our new case study.

Slomo.tv innovated its videoReferee* systems, which provide instant high-quality video replays from up to 18 cameras direct to referee viewing systems. Referees can view video from 4 cameras simultaneously at different angles, in slow motion, or using zoom for objective, error-free gameplay analysis. The Kontinental Hockey League; basketball leagues in Korea, Russia, Lithuania; and Rio Olympics used videoReferee. Read More.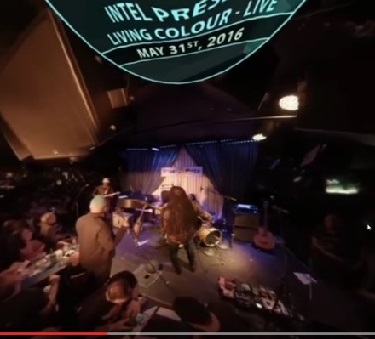 See how Wowza, Rivet VR and Intel worked together to deliver a live-streamed 360-degree virtual-reality jazz concert at the legendary Blue Note Jazz Club in New York using hardware-assisted 4K video​. See just how: Video | Article

Mobile Viewpoint Delivers HEVC HDR Live Broadcasting
Mobile Viewpoint delivers live HEVC HDR broadcasting at the scenes of breaking news action. The company developed a mobile encoder running on 6th generation Intel® processors using the graphics-accelerated codec to create low power encoding and transmission, and optimized by Intel® Media Server Studio Pro Edition for HEVC compression and quality. The results: fast, high-quality, video broadcasting on-the-go so the world stays informed of fast-changing events. Read more.

Sharp's Innovative Security Camera is Built with Intel® Media Technologies
With security concerns now part of everyday life, SHARP built an omnidirectional wireless, intelligent, digital surveillance camera for these needs. Built with an Intel® Celeron® processor (N3160), SHARP 12 megapixel image sensors, and by using the Intel® Media SDK for hardware-accelerated encoding, the QG- B20C camera can capture video in 4Kx3K resolution, provide all-around views, and includes intelligent automatic detection functions. Read more.
MAGIX's Video Editing Software Provides HEVC to Broad Users
While elite video pros have access to high-powered video production apps with bells and whistles available mostly only to enterprise, MAGIX unveiled Video Pro X, a video editing software for semi-pro video production. Optimized with Intel Media Server Studio, Video Pro X provides HEVC encoding to prosumers and semi-pros to help alleviate a bandwidth-constrained internet where millions of videos are shared. Read more.

JPEG2000 Codec Now Native for Intel Media Server Studio
Comprimato worked with Intel to provide additional video encoding technology as part of Intel Media Server Studio through a software plug-in for high quality, low latency JPEG2000 encoding. This powerful encoding option allows users to transcode JPEG2000 contained in IMF, AS02 or MXF OP1a files to distribution formats like AVC and HEVC, and enables software-defined processes of IP video streams in broadcast applications. By using Media Server Studio to access hardware-acceleration and programmable graphics in Intel GPUs, encoding can run fast and reduce latency, which is important in live broadcasting. Read more.
SPB TV AG Showcases Innovative Mobile TV/On-demand Transcoder
SPB TV AG innovated its single-platform Astra* transcoder, a pro solution for fast, high-quality processing of linear TV broadcast and on-demand video streams from a single head-end to any mobile, desktop or home device. The transcoder uses Intel® Core™ i7 processors with media accelerators and delivers high-density transcoding optimized by Intel Media Server Studio. "We are delighted that our collaboration with Intel ensures faster and high quality transcoding, making our new product performance remarkable," said CEO of SPB TV AG Kirill Filippov. Read more.
SURF Communications collaborates with Intel for NFV & WebRTC all-inclusive platforms
SURF Communication Solutions announced SURF ORION-HMP* and SURF MOTION-HMP*. The SURF-HMP architecture delivers fast, high-quality media acceleration - facilitating up to 4K video resolutions and ultra-high capacity HD voice and video processing. The system runs on Intel® processors with integrated graphics and is optimized by Intel Media Server Studio. SURF-HMP is driven-by a powerful processing engine that supports all major video and voice codecs and protocols in use, and delivers a multitude of applications fot transcoding, conferencing/mixing, MRF, playout, recording, messaging, video surveillance, encryption and more. Read more.
---
More about Intel Media Software Tools
Intel Media Server Studio - Provides an Intel® Media SDK, runtimes, graphics drivers, media/audio codecs, and advanced performance and quality analysis tools to help video solution providers deliver fast, high-density media transcoding. Download free Community Edition
Intel Media SDK - A cross-platform API for developing client and media applications for Windows*. Achieve fast video plaback, encode, processing, media format conversion, and video conferencing. Accelerate RAW video and image processing. Get audio decode/encode support. Download the free SDK now
Accelerating Media Processing: Which Media Software Tool do I use? English | Chinese