Summary
Compatibility information for Windows 11* with Intel® Processors
Description
Need to determine if a system with Intel® Processor is eligible for installing Windows 11*.
Resolution
All Intel® Core™ Processors that are 8th Generation and higher support Windows 11*.  
Microsoft enforces specific minimum system requirements for Windows 11 with Intel® Processors. To determine if your system is compatible with Windows 11, use the Microsoft PC Health Check application. If further support is required, please contact Microsoft. 
Follow the steps below:
Download the Download Microsoft's PC Health Check. 
Go through the steps of the installation.
Click Check now to find out if the current system meets the minimum requirements.

For more information, select See all results to view the details.
You can see the result, whether or not your system meets the requirements of Windows 11. See below.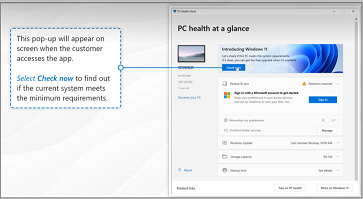 You can also search for your Intel Processor in the Processor OS Compatibility Site, or the Microsoft Windows 11 supported Intel processors site to find out if the Intel® Processor is compatible with Windows 11, but the minimum requirements have to be met as well. If you are unable to find your Intel® Processor in the list at the Microsoft site, contact Microsoft for support.
| | |
| --- | --- |
| Note | If you have any questions related to the operating system support for your OEM (Original Equipment Manufacturer) PC, contact the OEM for support.  If you are building your own system, please contact the vendor of the operating system for support. |