Summary
Steps to add a new employee to an Intel® Partner Alliance account
Description
Can't find the Add a Contact button on the Intel® Partner Alliance web site.
Unable to add contacts
Contact needs to be listed as a reward recipient for the Partner Admin to redeem on their behalf
Who approves the contacts being added to the account?
Where can I approve the contacts to add in our Intel Partner Alliance account?
Can I send Intel® Partner Alliance bulk invites  to my employees?
Resolution
There are two ways to add a contact/employee to an existing Intel® Partner Alliance account.
Employees can self-register by visiting the Intel® Partner Alliance page

Click the Join Now button and follow the instructions.

Partner Admins can also add employees to the account. See instructions below.
---
Step 1
Log in at the Intel® Partner Alliance.
Click the Company profile link.

From the Company Profile page, click the Manage Personnel button link.

Step 2
In Manage Personnel, you must first search for the employee address you wish to add. This is to avoid duplicate entries.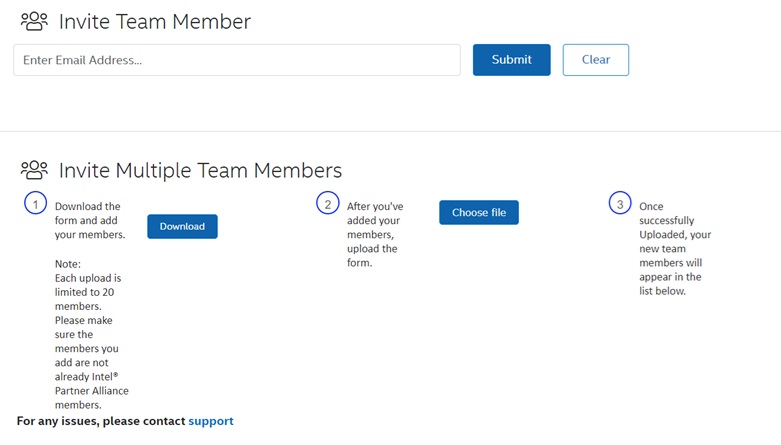 If the user is not already enrolled, a button labeled Invite a User will appear.

Step 3
After the Invite a User form is completed, an email will be sent to the new contact asking them to complete the registration process.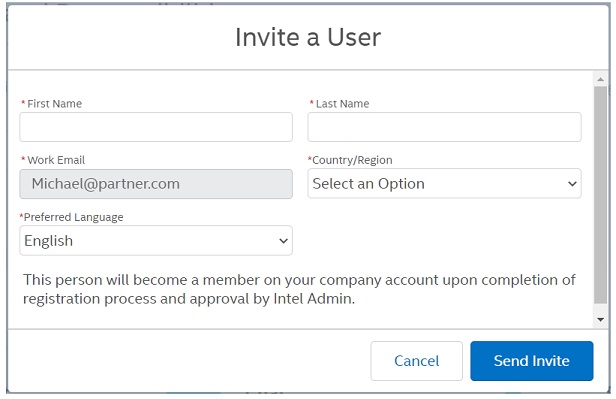 After the contact submits the registration to an existing Intel Partner Alliance account, Intel team reviews it for approval within 3 business days. Once the contact is successfully added, Partner Admins will receive an email with the subject New user added to Intel® Partner Alliance account.
Note

The email contains a registration that expires after 24 hours for security reasons.

Adding reward recipients for points redemption has the same steps as above. It takes up to 48 hours for the contact to be listed as Reward Recipient.

Public domain email addresses such as @gmail.com, @hotmail.com, @yahoo.com, and others are not applicable for invitation and registration in Intel® Partner Alliance.

Bulk invites to several contacts are being done by Intel internally. Please create an excel spreedsheet that contains these information such as: firstname, lastname, email address, and business ID.
Additional information
If you encountered the error List index out of bounds: 0 while adding a contact,  contact Intel Customer Support and provide the screenshot of the error.