Summary
How to check the set of Intel® Instruction Extensions in your Intel® processor.
Description
How do I check the set of instruction extensions for my Intel processor?  
How do I check for SSE, SSE2, SSE3, SSE4.1, SSE4.2, SSSE3,  AVX, AVX2, AVX-512, IMCI?
Resolution
On the system, you can use the Intel identification utility, click CPU Technologies tab, and look up the Intel® Instruction Set Extensions. See the example below: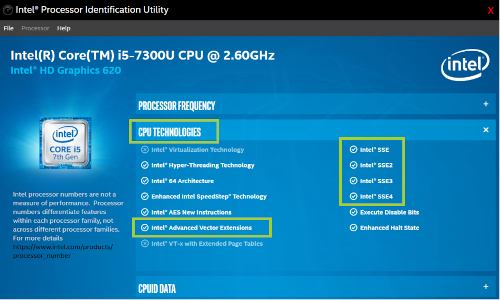 You can also find the Intel® Instruction Set Extensions for any Intel processors using the product specification page (ARK).
Follow these steps:
Go to product specification page and enter the number of the intel processors on the search box.
Under Advanced Technologies tab, look for Instruction Set Extensions.
Here is an example: