Code 10 Error in Device Manager for Bluetooth or Wireless (Wi-Fi) Devices
This solution has been verified by our customers to fix the issue with these environment variables
What are you seeing?
Code 10 errors in Device Manager for Bluetooth or Wireless (Wi-Fi) Devices could be related to many different reasons.  Usually a Code 10 error is a temporary error, generated when Device Manager can't start the hardware device, however this error is considered a generic message indicating an unspecificied problem.
This most commonly occurs after running a Windows Update that includes Wi-Fi or Bluetooth updates. 
A Code 10 error in Device Manager can occur when:
Bluetooth cannot be enabled
In Device Manager, there is a Yellow bang (!, exclamation mark) next to the Bluetooth or Wireless (Wi-Fi) device
In Device Manager, the properties of the Bluetooth or Wireless device shows status = "This device cannot start. (Code 10) STATUS_DEVICE_POWER_FAILURE"
How to fix it:
Most of the time, Code 10 errors can be caused by a temporary issue in the Device manager or with the Hardware. Because of this, a cold reboot of the operating system is the recommended first thing to try.
Perform a cold reboot (hold the power button until the PC powers off).
For laptops, reseat the battery if possible (remove and reinstall). Refer to your system manufacturer for guidance.
If the issue persists, try a clean install of the bluetooth or Wi-Fi driver:
Find the Intel Bluetooth or Wireless(Wi-Fi) device in Device Manager (see examples below).
Notes

Intel recommends to test using your OEM drivers. If you still get the error after re-installing these, then try the Intel Generic drivers for Bluetooth or Wireless adapters.
Make sure to download the drivers before uninstalling the driver for a clean install process.
Intel Wireless device. Example: Intel(R) Wireless-AC 9560 160MHz

Intel Bluetooth device. Example: Intel(R) Wireless Bluetooth(R)

 Perform a  Clean Installation of Wireless Drivers.
When you uninstall the Bluetooth device, it may become an unknown device, which is expected. The Bluetooth device will be identified again after you reinstall the driver.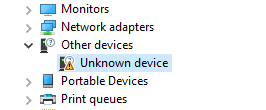 Reboot the PC
If the issue continues to persist, load BIOS defaults. Refer to your system manufacturer for guidance on settings/updates.
Additionally, check with the OEM (Original Equipment Manufacturer) of your system for additional suggestions: Computer Manufacturer Support Websites.
If none of these solve your issue, Contact Intel Support using the link in the blue banner below for more guidance.
Cause & More Information:
All postings and use of the content on this site are subject to Intel.com Terms of Use.