Determine Maximum Supported Resolution on Intel® Graphics Technology
To find the maximum resolution available on your Intel® Graphics Technology for 4th Generation Intel® Core™ Processors (formerly known as Haswell) and newer, follow these steps.:
Identify your processor. If you don't know your model number, you can use the Intel® Processor Identification Utility.
Search for your processor model.
Under the Graphics Specifications section, find the maximum resolution supported by the graphics controller included in that processor.
Example: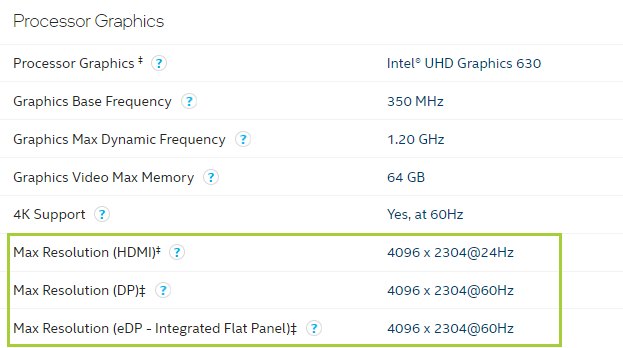 For 2nd and 3rd Generation Intel® Core™ Processors the maximum supported resolutions are:
DisplayPort 1.1 = 2560x1600 at 60 Hz
HDMI 1.4 = 1920x1200 at 60 Hz
DVI (Single-link) = 1920x1200 at 60 Hz
VGA = 2048x1536 at 75 Hz
Note

Most devices will support any resolution and refresh rate up to the maximum value listed. To find the resolutions supported by your computer and display, check with those specific manufacturers.

If you are using multiple displays in clone or duplicate mode, you can only select a resolution supported by all displays.

Based on your chipset, monitor capabilities, and manufacturer configurations, your maximum supported resolution can vary.