How do I Add Users to a Multi-User License?
Multi-user licenses allow associating multiple developers with a license. Only developers associated with the license will be eligible to receive Priority Support.
There are different types of multi-user licenses:
Developer Team-Sized Editions where the size indicates the maximum number of supported developers; for example, up to 10, 25 or 50 developers.
Floating license
[Applicable for Intel® Parallel Studio XE and Intel® System Studio]
The license owner or the license administrator can add or remove developers from a multi-user license. If you have one of those roles:
Sign-in to Intel Registration Center by entering your login ID and password
Click the Licenses view to see your current licenses.
Click the (…) and choose the Manage License option to manage the license.
Adding a developer

Click the Add Developer button
Provide the developer's email and then Add
Note: If you have reached the maximum number allowed, the Add button will no longer be available.
Removing a developer

To remove a developer, click the (…) in the Actions column and select Remove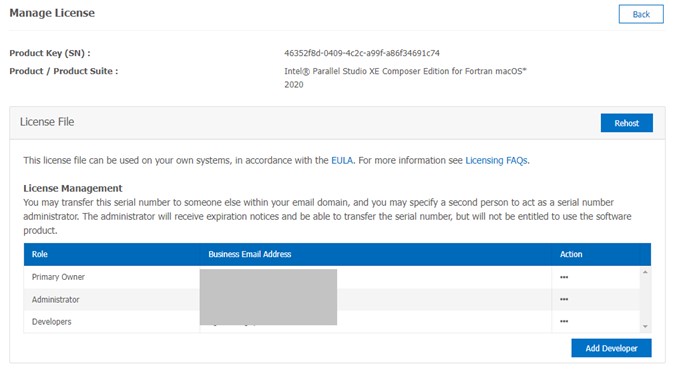 Have Questions?
Check out the Licensing FAQ
See our Get Help page for your support options.